I'd like to give you a deeper connection with Jesus by Christmas.
How in the world, in the midst of the chaos that is our lives, is that possible? Do we even want it?
Jesus offers us the gift of his presence, not just occasionally but continually. That presence is the antidote for our angst, but we sometimes don't know it. Or we see our spiritual life as just another item on our "should" list. You know, that list you have of things you really ought to be doing. Even if the things on the list seem life-giving, the list itself only makes you feel shame, because they remain undone.
I want to invite you to change that pattern in a radically simple way. My new book, Deeply Loved, offers you a chance to spend 40 days deepening your relationship with Jesus. To transform your heart by Christmas. Here's a short excerpt.
Jesus is fully present with us, no matter where we go. The question is, do we acknowledge that presence? And do we, for lack of a better term, take advantage of it? Do we fully exploit and enjoy the fact that Jesus himself is nearby, looking at us with love? 
How would we live if we fully embraced this incredible truth at all times? How do we gain that awareness? We can look to the example of disciples before us, beginning with the first-century laborers who dropped their nets and took off after this blue-collar rabbi they called Yeshua.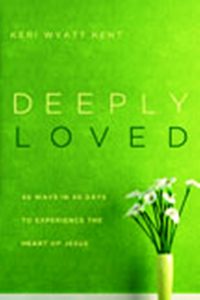 Deeply Loved offers encouragement and guidance for the weary soul, for the joy-depleted person. Each chapter has a "Presence Practice" with simple, straightforward ways to connect more deeply with Jesus, to experience his love in a radical way.
Not to stress you, but Christmas is 56 days away. Wouldn't it be great to go into the holiday season focused on and connected deeply with the one whose birth we celebrate?
My friends at winbooksweekly.com are giving away five copies of Deeply Loved this week. Visit their site, or follow @newchristianbks on Twitter, to learn how you can enter the drawing to win one of those copies. (We'll also continue to give away copies here on my blog).