Have you ever thought of creating an ebook to market your company? I just wanted to share one of my recent ebook projects.
I collaborated with Lauren Hunter, of churchtechtoday.com, to create an ebook for one of her clients. This "Technology Spotlight" book offers insights and tips on using technology wisely and well for children's ministry check-in systems. You can get a free copy of the book here. I'm very excited about how it turned out.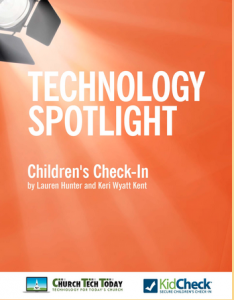 An ebook is an excellent marketing tool. By creating well-presented, well-designed, helpful information related to your business, you can educate potential customers and move them toward buying your product or services. In the case of this book, we offered helpful information on why churches need to have a check-in system, the benefits of various systems, and how technology can enhance child safety.
A short ebook can be a great tool to gather blog subscribers, or to generate buzz on social media.
My writing services company, A Powerful Story, is already at work on another ebook project. Contact me for a free consult on how to use an ebook to market your business.