The dog and I jog/walk/stop/jog in the park, then walk home. A friend, mom of three, is having a garage sale in her yard, so I stop to chat. Her kids sell me lemonade and pet the dog.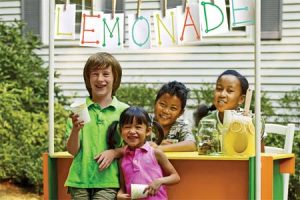 My friend, someone who has always been rather busy–lots of activities for her kids, volunteering at school and Girl Scouts and so on–tells me her husband got laid off from his job. As I'm saying I'm sorry to hear this, she tells me it's "been great." I look at her, surprised by genuine joy behind her smile. She's found great freedom in saying "no" to her normal slightly frenetic schedule.
They've had more time with the family, and, on a tighter budget, she tells me, "our motto this summer has been 'activity free and free activities!'"
In other words, she said "no" to signing her kids up for endless camps and so on. She's said yes to allowing some down time, and she and her husband have simply been enjoying the kids, doing things together as a family. Or taken them to free events at the library, the park district, whatever. This morning, her daughter and some friends were running a lemonade stand alongside the garage sale.
In my book Making Room for God in Your Hectic Life (which is a re-release of my book Breathe), I suggest letting your kids just have a summer to be kids, to not cram the summer schedule with activities. Now, that's not possible for everyone. But it is quite possible. Even if you have to work outside the home, and therefore set up child care or camps for your kids, you can still make the non-work hours less hectic in some small way. You can decide to say "no" to rushing around. Creating a little bit of space is better than none at all. Because that space will begin to heal your soul.
Speaking of free, today is Free Book Friday, so I"m going to give away two more copies of Making Room for God in Your Hectic Life. I should point out that I can only ship within the United States. To enter the drawing, tell me one thing you've done this summer to make room for God in your life: some way that you have simplified, slowed down, said no to the crazy schedule that for so many of us has become normal. (Again, this giveaway is for those living in the U.S.)
If you haven't done that yet this summer, it's still July. You still have time to make some room for God. It begins, sometimes, by realizing the freedom in the word "no."