Today, I am grateful–in spite of intense challenges before me. I am a deeply loved daughter of God who has been given many good things–and naming them allows me to appreciate them more.
Grateful for a quiet corner in a quiet house to write. Grateful to run into a friend while I walked the dog around the neighborhood pond, storm clouds gathering but holding at bay as we strode along the path.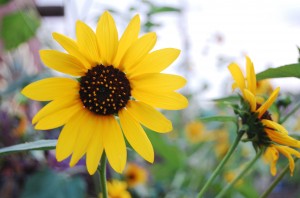 I am grateful for my job, which can be done from this quiet corner.  Grateful for a thousand small blessings: gathering with my writer's group, Redbud Writers Guild, last night; a comfortable bed in a warm, safe house where I slept sound; an answered prayer; a friendship where I can bring my whole self (broken parts and all); a new freelance gig; a new book releasing soon; steps of spiritual growth I see in my kids; the last blooms of summer along the pond's edge.
When we see and name the blessings, we live into the truth that we might otherwise miss: we're blessed. We cannot fully enjoy that which we do not notice. If you want more joy in your life, even in seasons of difficulty, notice the good things.
Gratitude brings us into the presence of Jesus, the giver of all good things. Even the challenges–they are good things, too, because they are forcing me to lean on Jesus, to collapse, frankly, in his open arms. And what does he require in return for his comforting presence? That I simply rest in it. That I relax and trust that I am a deeply loved daughter, and that all shall be well.
What are you grateful for today? In what ways, small or large, have you experienced the love of Jesus?  What good things has he blessed you with today? Take five minutes to notice five good things. List them in your comment below, and tell us what happens to your soul as a result.