My daughter skillfully navigates her Toyota through the dark, wet streets of downtown Los Angeles. It's 5:30 a.m. and we are on our way to a run.
"The area we are going, Skid Row, is not a very nice area," she warns me. "The streets have a lot of trash, it's kind of dirty."
We pull in to the parking lot of the Union Rescue Mission, and my daughter rolls down the window. "Hey Kevin," she greets another volunteer. She runs with this group every Wednesday.
Across the street, under a building overhang, I am introduced to a friendly group of volunteers and homeless gentlemen who are gathered there, including Sam*, a sturdy man with long black hair, who wears stockings covered with what look like wooden beads from ankle to mid-calf. They make a pleasant rattling sound as he moves. The group begins a warm-up with jumping jacks, then high knee steps. Nearby, a homeless person sleeps on the sidewalk. The rain falls.
After our warm-up we pull into a circle, arms around shoulders, and pray the Serenity Prayer. "God, grant me the serenity to accept the things I cannot change, the courage to change the things I can, and the wisdom to know the difference," we intone together. Then everyone puts an arm into the circle and one of the men asks in a loud voice, "Who are we?" and everyone responds "Back on My Feet!" He then asks, "How long are we gonna run?" and with equal enthusiasm, the group responds "Forever!"
Kevin tells us the route to the Staples Center. We trot through the dark streets, jumping puddles and stopping occasionally for traffic lights. We turn a corner and run down the middle of San Julian street, with a solid row of tents pitched on both sidewalks, where the homeless are still sleeping. A block later, an entire block of flower wholesalers are opening up, and the smell of fresh flowers wafts through the air. It keeps raining, we keep running, past shuttered buildings, small stores, people sleeping on trash-strewn sidewalks. The beads on Elliot's ankles pound out a steady, soothing rhythm.
When we reach the Staples Center, it's like we've entered another world. Surrounding the stadium is a little village of upscale restaurants and bars, currently closed, but still lit up. We stop to wait for everyone to make it to our turn-around point.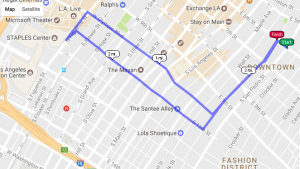 I ask Sam about the beads, and he explains they are part of his cultural heritage. They are deeply spiritual and healing to him, he says. The gentle sound they make as he runs "kind of put me in a trance. They help me pray. I pray for my family, for my friends." I really like Sam, his sincerity and enthusiasm, his fierce concentration while he runs, the way he cautions everyone to be careful crossing the streets.
The beads actually seed pods, hollow. A ball bearing has been inserted into each one, he explains. He lifts his foot. "You can touch it," he offers. The lacquered pods about an inch in diameter, attached in a solid sheet.
We take a group photo in the bright light of the neon signs, then head back the way we came.
We run back up the flower market street, back through the tent village where some people are beginning to wake up. Some wave at us as we pass by.
Back in the mission parking lot, the first runners to finish are there to give us fist-bumps and high-fives. Kevin gives announcements about upcoming runs and races, including a hike to the Hollywood sign. We repeat the prayer and the chant. We say goodbye, getting hugs from most everyone.
It's still raining, we're soaked, but I'm invigorated.
Back on My Feet is a running organization, but it's so much more than that. Made up of volunteers and homeless people, it operates not just in L.A. but in 11 other cities across the country, including my home town of Chicago.
Their mission, according to their website, is to "combat homelessness through the power of running, community support and essential employment and housing resources."
Those in the program run three days a week, early in the morning. The fitness and goal-setting that go with running help members to build confidence, and after 30 days in the program, those with 90 percent attendance can move on to the second phase of the program, which offers educational support, job training and more. Read more about this amazing program here.
*not his real name