Congratulations to Shauna V., who left a comment on Free Book Friday and was randomly selected to win a copy of Rest: Living in Sabbath Simplicity. Shauna, look for an email from me with details.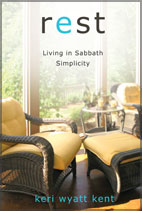 Today, I'd like to hear your questions about the practice of Sabbath. What do you want to know about this ancient command and practice? Maybe you have questions about why we should even be talking about it. Let's hear your thoughts.
As our final giveaway this month, we're partnering with the team at C. Grant & Co. Marketing, which runs Win Books Weekly. There are five books being given away next Friday. There are multiple ways to enter the drawing, but the easiest is if you have a Twitter account. Simply follow New Christian Books @NewChristianBks, and retweet the daily tweets about the giveaway. Each retweet gives you an entry in the drawing. You can also go to WinBooksWeekly and find an alternate entry.