My friend and fellow author Kathi Macias has written a lovely review of Deeply Loved on her blog. She writes: "Deeply Loved by Keri Wyatt Kent is, without doubt, one of the most beautifully written and practical devotional-reading books that I've ever run across. I am thoroughly enjoying it, and I know you would too."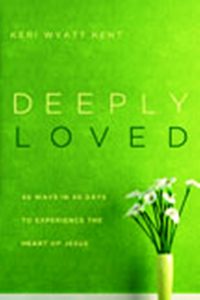 Please click here to go visit her blog and leave a comment.
Also, since it's Friday, we'll do a free book Friday deal. If you have read Deeply Loved, go post a review on amazon. Then come back here and tell me you posted it (and what name you posted it under). Each review (you have to tell me about it in the comments section below) gets you one entry in a drawing for a free copy of one of my other books (or another copy of Deeply Loved if you want).
We'll pick winners on Monday.