When my wonderful publicist Cat Hoort suggested doing an online study of Deeply Loved for Lent, I thought, sure, why not? Participants read an entry a day, bloggers could pick a day to share their thoughts on various chapters. We'd tweet and Facebook about what we were reading and writing.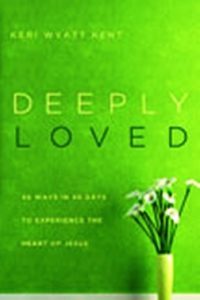 I was not prepared for the depth of these reflections, for the way in which God has been speaking to people through this study. As a writer, I feel that this book was a "loaves and fishes" or maybe just half a loaf and a Filet O'Fish. I gave full effort to the writing, I always do, but I wondered if that effort would be enough. God has taken my admittedly lame offering, written from a place of depletion, and is using it to feed people, which daily surprises me.
Today, I had the privilege of reading a blog post from Allie, aka The Loopy Librarian, about her experience meditating on the promises of God (Day 11). For her, meditating on God's promises is not just a nice little practice. It's a lifeline, a way to keep her equilibrium in a very difficult season of life. Allie suffers from bi-polar disorder, and her post about the dependability of Jesus and his love brought me to tears. Allie's sweet reminders of God's faithfulness, written during a week when she was "one manic/depressive episode away from hospitalization" will inspire you to cling to Jesus with a new fierceness.
Please click over to The Loopy Librarian blog and leave Allie a comment of encouragement today. Then take some time to meditate on the promises of God.
P.S. For those of you who are way more organized than the rest of us, I realize this is actually Day 18 of our study. Today's chapter is on Intercession. Perhaps you'll think of someone who needs you to pray for them after reading Allie's post.