A recent study determined that Christians, especially younger Christians, are "very concerned" about global poverty.
We'd have to be pretty cold not to be, right? But does that concern lead us to action? I mean, I can be concerned about the war, but not enlist. I can be concerned about kids working in sweat shops, but if I don't stop buying clothes manufactured in those factories, am I really concerned? Concern without corrective action is just lip service.
Christians should be concerned about the poor: there are more than 2,000 references in Scripture that have to do with justice, poverty and how we treat the poor, sick and marginalized. But our concern should lead to action. The Bible commands us to care for the poor, not just by worrying about them, but by acting on their behalf.
Isaiah 58 tells us that our concern should lead us to fast and pray, and then, to act:
"Is not this the kind of fasting I have chosen:
to loose the chains of injustice
and untie the cords of the yoke,
to set the oppressed free
and break every yoke?
7 Is it not to share your food with the hungry
and to provide the poor wanderer with shelter—
when you see the naked, to clothe them,
and not to turn away from your own flesh and blood?
8 Then your light will break forth like the dawn,
and your healing will quickly appear;
so often we ask God to bless us, we ask that our light would break forth, that we'd have influence, that we'd be healed. We read verse 8 and claim those promises. But those promises are CONDITIONAL promises of God. They're the second half of an "if…then" statement.
The point of fasting and prayer is to align our hearts with God's heart, and then, to act as God would in our place: to share our food with the hungry. Mere "concern" is not enough. But trying to figure out what to do can feel daunting, even overwhelming.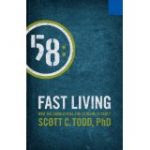 The good news is: Christians are indeed acting on their concern. An excellent resource on this topic is Fast Living: How the Church will End Extreme Poverty. Author Scott C. Todd explains that we've made incredible progress so far. And he offers clear strategies for the church to continue that progress.
This book has challenged my assumptions and pushed me to do more than just feel badly for the poor.
Fast Living is part of a multi-media campaign that includes an opportunity to fast, pray and give to specific projects that help the poor. A movie, called 58: (after Isaiah 58, click here to see the trailer) documents the plight of the poor, and invites people to get involved in projects to help them, which are highlighted on the project's website, http://live58.org Go to the site to learn more, sign up to support a project, or download a free study guide that goes with the book.