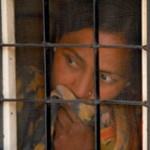 Many of you know I've written quite a few articles about human trafficking for Today's Christian Woman.  (Read one by clicking here) All over the world, there are more people trapped in slavery today than there were during the height of the African slave trade to England and America. The articles in TCW sought to enlighten people about the problem of sexual slavery in particular, and to inspire them to take action. God's heart breaks for the poor, for the disenfranchised. His means of helping them? You and I.
Many young girls end up being caught in prostitution because they are lied to. They leave their families hoping for promised jobs in housekeeping or food service, taken to unfamiliar places, only to realize that they are captives, forced to work in the sex trade. Many are young children, who are sold into slavery by their families.
Fellow writer Lucy Ann Moll is blogging today about her simple plan to take action to help girls trapped in sexual slavery. Click here to Read her blog, and then, figure out what you might want to do to set girls free. Our freedom is gift. Should we not use it to fight for justice, if only because we can?