I'm so sorry.
How appropriate that today's reading in Deeply Loved has to do with confession: I'm here to apologize for not keeping up with blogging this week. I hope you've been reading on your own through the book.
So please forgive me, and let's move forward, yes?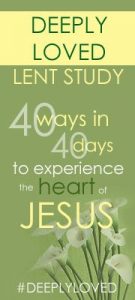 Here's a quote from today's reading (Day 21 if you've been reading six days a week since Ash Wednesday, where we began our 40-day journey):
"Jesus sees our struggles. What we confess, he already knows. We do not confess to inform him but to access the grace he wants to give us. He is moved with compassion by our plight, and wants to help us. Confession accesses that assistance."
The scripture in today's reading rightly reminds us that if we confess our sins, Jesus is faithful to forgive. But I also want to encourage you today with truth from Paul's letter to the Christians in Rome, where he confessed his own frustrating struggle with sin (see Romans 7:14-25), but then concludes in the beginning of Romans 8:
"So now there is no condemnation for those who belong to Christ Jesus. And because you belong to him, the power of the life-giving Spirit has freed you from the power of sin that leads to death."
For many of us, shame is a shackle that binds our hearts. We suffer not only when we sin, but when we beat ourselves up about that sin over and over. Confession unshackles our souls, sets us free. It is a spiritual practice that we need God's help to engage in. It begins with telling ourselves the truth about our own faults–the first step in not letting that dark side of ourselves be the boss of our souls.
If you have wronged someone, confess it. To that person. Make your goal reconciliation, not rationalization.
If your heart harbors jealousy or hatred or fear, confess it. If you've fallen again to addiction or apathy or anger, just talk to God about it. God knows it already anyway. Truth will set you free, will allow you to let go of not only the guilt, but the trigger for the guilt: the jealous feelings, the fear that grips you, the sin that so easily entangles.
If you've trusted Christ, you belong to him. There is no condemnation. Not less condemnation–no condemnation. None.
You are free.
P.S. Speaking of free, it's Free Book Friday! Leave a comment below with your favorite quote from your reading of Deeply Loved, and we'll select one commenter to win a free copy of Deeply Loved (it makes a great gift).