Read on to find out how you can enter to win one of five free copies of my book Deeper into the Word.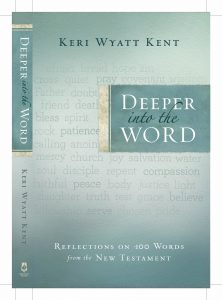 Physical exercise operates on a paradox: in order to strengthen a muscle, you must break it down. To build lung capacity, you must push to the limits. To improve your endurance, you have to be exhausted.
At my age, visits to the gym are focused more on maintenance than improvement. Going for a run is more an effort at keeping deterioration at bay than an attempt to break records. My training goals are humble—yet essential.
My mother, in her early 70s, also heads to the gym several days a week—her doctor told her weight training is the best defense against the osteoporosis that runs in our family. She doesn't love it, but she loves being able to hike in Yosemite National Park, or ride a horse. The workouts make her strong enough to enjoy those activities.
This morning, in a tattered copy of Madeleine L'Engle's Walking on Water that I keep on my nightstand next to my Bible, I read this quote from my favorite 17th Century poet, John Donne: "To come to doubt, and to a debatement of any religious duty, is the voice of God in our conscience: Would you know the truth? Doubt, and then you will enquire."
Donne's point: Doubt is actually God's voice, asking us to test, asking us to enquire about truth. Inviting us with a winsome smile, "Seek, and you will find."
L'Engle then observes: "If my religion is true, it will stand up to all my questioning; there is no need to fear. But if it is not true, if it is man imposing strictures on God …then I want to be open to God, not to what man says about God."
As Rilke said, "Live the questions." Perhaps some day, you'll find an answer. Or, you will come to a place where you realize that the daily asking, the periodic doubts—these themselves are the answer. They are what constitutes a life of faith.
If I am willing to embrace the paradox that in order to build strength I must push my muscles to the point of weakness, I should be willing to see the parallels that lie in the relationship between faith and doubt.
In my book Deeper into the Word, I write, "Our doubts somehow seem less daunting when we realize faith hereoes like Mother Teresa and the apostle Paul wrestled with doubt. Jesus, when he encountered doubters, did not walk away, but encouraged them to see that doubt is the flip side of faith."
What if doubt facilitates faith? By challenging, pushing against, our faith, it strengthens it—if we are willing to engage in the confrontation?
What if your deepest doubts God's voice in your conscience? What if doubt were the weight that will strengthen the muscles of your faith?
To be entered into the giveaway, post a comment. For extra entries, see the instructions in the Rafflecopter box.
Answer this question in your comment: Do you wrestle with doubt? What do you tell yourself about those doubts?