From my latest project, Deeply Loved: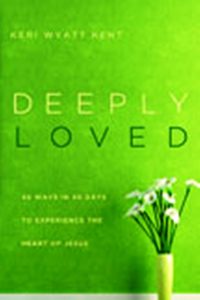 "Jesus didn't just come to save humankind; he came because he wanted to have a relationship with you.
But the very good, amazing news is that God deeply desires to connect with you, to be a constant comforting presence in your life. You simply have to train yourself to be aware of his presence. That is what you are invited to do over the next forty days as you read this book.
What does God say when he looks at you? Can you replace any negative thoughts with the truth? God loves you and delights in you. You are his beloved child, wholly and deeply loved.
It's quite likely that you will forget about Jesus when your day gets busy. If so, give yourself copious amounts of grace."
Want to read the rest? If you're willing to be a wildly enthusiastic promoter of this book, I want to give you a review copy. If you know how to write a killer amazon review, or you have a blog where you'll post a kind review, leave a comment. The first three to do so get their names inscribed in the book of life, um, no, actually, my influencer list. The Influencer List, as publishers call it, is a list of folks an author hopes will use their influence, large or small, to tell people about their book. Spell-check flags "influencer" since it's not a real word outside of the publishing world. But it's key for authors who are trying to get their book noticed in a noisy world where thousands of titles are published every year.
So, if you think you've got the chops to be an influencer, leave a comment, because I want to give you a free book. (again, this if for the first three commenters, so be bold!) Oh, and I promise to link to your review all over the place: Twitter, Facebook and here at my blog. Thanks!