Too often, we forget the most miraculous truth: we are deeply loved children of God. He loves each of us, as Augustine said, like an only child.
I wrote Deeply Loved: 40 Ways in 40 Days to Experience the Heart of Jesus to not only remind you of how much Jesus loves you, but to help you really experience that love. To mentor you in spiritual practices that will allow you to connect with that abundance grace and love.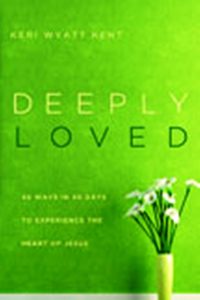 In order to be in today's drawing, you get to play on social media a bit. I've posted some tweets to release throughout the day on several different Twitter accounts. You have to search for them (use the hashtags #DeeplyLoved or #Jesus). To enter the drawing, simply retweet, or copy and post them as your Facebook status. Leave a comment here telling us about it. You have til midnight Saturday, and we'll announce two winners on Monday.
If you are on Facebook but not on Twitter, simply copy and post the following as your status before midnight Saturday:
"God deeply desires to connect with you, to be a constant comforting #presence in your life." –  from Deeply Loved by @KeriWyattKent http://amzn.to/QKj2E9