When I teach spiritual formation classes or lead small groups, I build a habit of asking a simple question to begin our time together: where have you noticed God since we last met?
I'd do this even with my children, gathered around the dinner table. The question builds the habit of noticing that God is indeed present, and working among us. Naming our observations of God's activity in our lives and in the world is a type of prayer that fosters gratitude in us.
I'd like to ask you that question. Where have you noticed God lately? Perhaps you've seen or felt his presence in your reading of Deeply Loved, or in your experience of Lent. Perhaps he's spoken to you through the kindness of a friend, or words of a child.
Today is Friday again, so we'll give away a copy of Deeply Loved to a reader today as part of our 40 Day Lent study.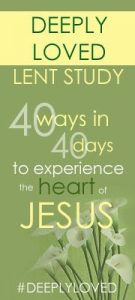 We'll select one reader who comments below. In order to qualify for the drawing, you must include in your comment one of two things. Either:
share a quote from Deeply Loved that was significant to you (in other words, you noticed God on the page or in the words)
or
simply share your response to the question: where have you noticed God lately? 
Leave a comment before midnight CST to qualify for this week's drawing. Also, we'll be talking on Twitter about this–if you're there, please retweet! Or just click to tweet below.
[ctt title="Where have you noticed God lately? Tell us and you could win a #free #book. #DeeplyLoved #Lent study" tweet="Where have you noticed God lately? Tell us and you could win a #free #book. @KeriWyattKent #DeeplyLoved #Lent study http://wp.me/p37y1x-yQ" coverup="Ud7MD"]