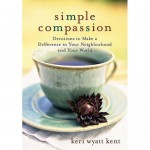 A few readers have written to me, asking about tips for reading my new book Simple Compassion with a group or book club. I really designed this book to be experienced in community, so I'm glad to offer some help, especially if you are leading a group. I spent years at Willow Creek coaching small group leaders, so if you need a coach as you go through this book with a group, I'm glad to help.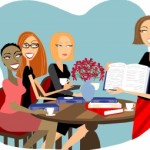 Because Simple Compassion is a 52-week devotional, it is great for a weekly discussion group. So what I will do is to have a "virtual book club" right here on my blog. Each Friday, I'll post a question about the chapter, and we can chat about it here at Deep Breathing for the Soul (and on Facebook, as these posts show up there as well.
We'll start today with the introduction, and do "Week 1: Position" next week. You can read the introduction for free by clicking here. (there's also a link to an audio book sample on that page if you want to listen to the book). The book also contains a leader's guide, with verses and information to help you. That guide also has a suggested structure for group time.
Every Friday, I'll post something about the chapter, and ask for your comments. If you are reading the book with a group in your neighborhood or church, you can share your insights, questions or comments here on the blog. I hope it will be very interactive.
So let's dive in. Read the introduction, then let's talk about a few simple questions:
When you were growing up, how did you view God? What did you think he wanted from you?
What do you think our lives should be about if we are following God?
Where have you noticed God at work in your life lately?
After we have some comments (on Facebook or the blog) I'll jump in with comments of my own. And feel free to respond with questions.