I was only six when my family adopted her. She moved into my room, and I was delighted to share my space with her. She brought music into our home, and a sort of joyful togetherness.
Dear friends took her in when my parents moved cross-country, but eventually she ended up with me again. My children loved on her, with sticky fingers and little gentleness.
But now, it is time for us to let her go. Which is no easy task–she's quite hefty.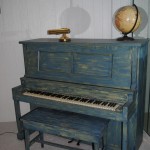 My best memories of childhood include sitting with my mother singing "Red River Valley" and "Billy Boy" while she played this old piano–the man who tuned her for years estimates she's as old as those folk tunes, or older.
I remember leaning against her upright side, feeling the wood vibrate, absorbing the music as my mother played complicated classical pieces. I plinked out "Born Free" and "Color My World" on her growing up. My daughter, who inherited her grandmother's perfect pitch, coaxed Mozart and Handel from her tired keys.
She wears several coats of paint and she's loaded with memories. But lately, the old girl's used more as a bookshelf than a musical instrument. My daughter has moved on to other interests besides music.
She's a perfect piano for a family with children who are just beginning to discover music. She's unfazed by little feet kicking her, she feels the love in sticky fingers tapping (or pounding) her keys. I believe every home should have a piano when the children are small–if you can't afford one, here's your chance to get one for free (as long as you'll haul her away).
Before I put her on Craig's list, I"m offering her to friends–free if you'll carry her away (a task best attempted by a group of people). If you're in the Chicago area and are interested in providing a loving home for this old piano, let me know!!