When you write a book, or raise a child, you realize that much of what happens next is beyond your control. The book might get scheduled for release on a certain day, and your child might decide to get married on a certain day, and the fact that two days are less than a week apart—there's nothing you can do about it.
GodSpace: Embracing the Inconvenient Adventure of Intimacy with God, releases today.  I'm delighted to share this book with the world. And a little terrified, of course. Writing a book about spiritual practice is a rather vulnerable thing to do. Sharing your own story–the struggles and the joys–always feels risky. I make my living helping other people with their stories and books and curricula and blogs—so this is the first solo project in more than five years.
In a world full of war and rumors of war, hurricanes and floods, children threatened with deportation, and more, it is easy to let what we think is our "spiritual life" get crowded out. But busyness doesn't actually crowd out our spirituality. It injures it, impacts it—and thus impacts all of our life. In a world full of work and family obligations (however joyful they might be), we can forget to take time to simply pay attention. In this busy season, I'm trying to pay attention, to notice the beauty and let it soothe me, let it remind me that God is still there.
Your spirituality, your soul, is a part of you, inextricable from your actions and thoughts and self. You can try to ignore it, but even that ignoring has spiritual ramifications. But the balancing of things is often challenging. As it is this week for me. I'm trying to soak up as much time as possible with my children, because they live far from me. I'm helping with a few last minute wedding details. I'm juggling a couple of projects with clients, and of course, inviting the world to read and enjoy GodSpace. All while trying to take my own advice and not rush past my own life.
That's what GodSpace is about—choosing to live your ordinary life in a way that connects you deeply with God. It's not impossible—in fact, all that might really need to change is your perspective. And maybe, slow down a little. To live what I call embodied spirituality.
Here's an excerpt from GodSpace that explains: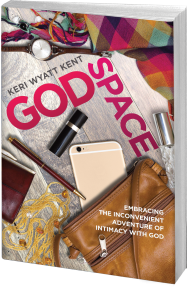 Finding God space is like trying to put more air into your
life. Air is all around you, but you don't notice it. Just as you
may not think about air, you can ignore God if you are moving
too fast, rushing around distracted. By slowing down, you
can begin to see that everyday life is soaked with the presence
of God. You can see God if only you reframe your life a bit.
If you stop, breathe, and live your faith, you engage in what
some call an embodied spirituality. The term embodied spirituality,
like many other terms that belonged in ancient days to
Christianity, has been co‑opted by other traditions—
including
Paganism and New Age. My goal is to reclaim for Jesus followers
this accurate descriptor of living faith, to remind us
that it was a Christian term to begin with.
Our faith is not just what we think, or even believe. It's not
a list of our philosophical oppositions, although to listen to
some Christians, you might mistakenly draw that conclusion.
Our soul, housed in our body, is transformed in part by our
actions and practices, what we do with our body. Simply slowing
down is done with your body.
As the Bible says, "Faith without works is dead" (James 2:20
kjv). We make our faith a reality by what we do. Whether
that's opening our home to someone as we practice hospitality,
or taking the time to rest on Sabbath, we don't just contemplate
it, we take bodily action.
This week, I get to spend time with my children, as we gather for my daughter's wedding–which is five days from today. I will try to be fully present with my parents and my children, because giving them my love and attention is a way of creating some GodSpace.
Over the holiday weekend, I went running with my daughter, floated in the pool with my mom, cooked for the family. We played dominos and laughed and did a few wedding errands. More than once, I felt thankful, as I watched my daughter and her fiance interact. She's marrying a good guy, and I'm grateful.
My son, who I have not seen since last December, arrived yesterday. He made mojitos for all of us, and we talked about plans for the wedding, and he filled us in on the work he'd done for his summer internship.
Today we'll carve out a little GodSpace to go hiking, and maybe to the beach. He'll make his famous steak fajitas for dinner. We'll all work on a few last wedding tasks–seating charts and centerpieces and so on.
And I'll jump on the computer a few times to send things to clients, or answer emails, or whatnot. I guess my point is, when you say you're busy—I get it. I know, right? But God is right there in the middle of the crazy and hectic and good things that need doing, inviting you to notice, to slow down, to experience peace and presence. Don't miss it.
To order your copy of GodSpace, visit amazon or Barnes&Noble or any favorite online retailer. You can read a free chapter and learn more at www.GodSpaceBook.com