Today is Day 2 on our Deeply Loved Lent adventure. Today's devotional is all about simply focusing our attention on Jesus throughout the day, and enjoying the gift of his presence with you. If you're reading with us, please leave a quote or question in the comments, or share it on social media with the hashtag #DeeplyLoved.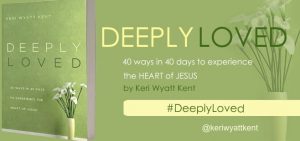 If you're wondering what Deeply Loved: 40 Ways in 40 Days to Experience the Heart of Jesus
 is all about, here are a few FAQs to introduce you to the book.
Q. So, what makes Deeply Loved different from other devotional books?
A. Deeply Loved is a practical guide to spiritual practices that will help readers experience and know, in a profound way, the personal and intimate love that Jesus has for them. It does not just tell about that love, but also guides readers in spiritual exercises that will allow them to live in that love. It's a 40-day journey into deeper intimacy with Jesus, at the end of which the reader will be able to say with conviction, as Augustine asserted, "God loves me like an only child."
Q. Do you think most Christians don't really understand God's love in that way?
A. I think that many Christians do understand it on an intellectual level—that is, they can tell you that Jesus loves them as an intellectual fact. But they don't live as if it were true. Others think, God loves me because he loves everyone, so he's obligated to include me. Or, they think that God's love is conditional—and if they make a mistake or aren't good enough, he'll withdraw that love. Or love them a little less. That's simply not true! Nothing you can do can make God love you any less, or any more for that matter. I wrote this book to help people really understand and experience the unconditional love that Jesus wants to give them—not just one time to save them, but daily to help them live the way they were meant to live.
Q. So, what does that mean, "experience the heart of Jesus"?
A. For many of us, faith is an intellectual exercise: we believe certain things to be true, we can even give you credible evidence as to why. And that intellectual aspect is certainly essential to our faith. But I have found many of us define faith as knowing about God, instead of just knowing him. My passion is to help people really experience—viscerally, if you will—Jesus' deep and personal love for them. Several times in the gospels, we read that Jesus was "moved with compassion" by the plight of lost people. The Greek word is splagchnizomai, which means to be moved in your guts. Jesus feels that compassion for each of us, a deeply visceral love, and part of what it means to love him is to have that same sort of deep, in your guts feeling toward him as well. To share that experience with him.
Q. So how do you accomplish that–experiencing love?
A. Deeply Loved is a 40-day experience. You read a chapter, and then you engage in a spiritual practice. You reflect on truth, but you also do something. It could be prayer, confession, self-examination, service, journaling, studying, even fasting. These practices are not ways to win God's favor or earn spiritual brownie points, but ways that we can connect more deeply with God. And there are a lot of opportunities within the book to look at what Jesus was really like, through Scripture, so that we can understand his heart and character.
We'll have more Q&A in tomorrow's post. Today's reading is about what it means to follow Jesus. Here's a quote from today's chapter:
"Jesus is fully present with us, no matter where we go. The question is, do we acknowledge that presence? And do we, for lack of a better term, take advantage of it? Do we fully exploit and enjoy the fact that Jesus himself is nearby, looking at us with love? How would we live if we fully embraced this incredible truth at all times?"
[ctt tweet="Jesus is fully present with us, no matter where we go. The question is, do we acknowledge that presence? http://ctt.ec/0jrdf+" coverup="0jrdf"]
Today's Practice Presence simply invites you to go through your day turning your thoughts toward Jesus–a simple yet challenging practice.
How do you experience Jesus throughout your day? How do you remind yourself to be aware of his presence? Leave us a comment!