On a Zoom call with my long-time running buddy Maryam this morning, the day in between her birthday and mine, we looked back at a year. Would we have imagined a year like the one we've lived through since our birthdays last year?
How has this pandemic year changed us, changed our children? Our work, friendships, emotional health? Certainly any of us would say we have been formed, molded, influenced, even transformed by this year of uncertainty. We have been changed, and as a result, we see the world differently.
For many, the changes have impacted physical health, emotional well-being, financial or job status. In other words, who we are and who we are becoming. They are a part of our spirits, who we are at the very core.
Dallas Willard wrote:
"Sp
iritual formation, without regard to any specific religious context or traditions, is the process by which the human spirit or will is given a definite 'form' or character. It is a process that happens to everyone. The most despicable as well as the most admirable of persons have had a spiritual formation. Terrorists as well as saints are the outcome of a spiritual formation. Their spirits or hearts have been formed. Period." (Renovation of the Heart)
 It is a process that happens to everyone. And certainly, it can happen with little attention or intention on our part. Or it can be something we're deliberate about.
Months of lockdowns, unemployment, uncertainty, seeing a rising death toll once unimaginable—these realities have formed our spirits.
Fear perhaps occupies more space in our hearts than it did before—and that forms us. Fatigue crowds our souls—and that forms us. Anger flames up, whether over politics, kids, partners—and that forms us too. Perhaps these crowd out faith more readily than before. None of us set out to become more fearful or less faithful, more angry or just plain tired, but…sometimes, pandemics happen.
We can do hard things
I'm a person who loves to plan. The pandemic has shattered my illusions of control—I can make plans but you don't always know what will happen. Lots of plans have been sidelined, delayed, changed.
While I'm sure you are as frustrated by this and thousand other struggles as I am—and yet, the struggles of this pandemic season have shaped you. If anyone had told you a year ago you would survive a year of this, you might not have believed them. Sure, you're tired, but you've endured. As Glennon Doyle says, We can do hard things. And even if we are not really focused or aware of our formation, doing hard things makes us stronger. Which means you might be becoming more of a badass just by surviving.
Over the last year, I've found myself returning again and again to the Serenity Prayer, a linchpin of the recovery movement, originally composed by pastor and theologian Reinhold Niebuhr in the early 1930's:
Lord,
Grant me the serenity
to accept the things I cannot change,
The courage to change the things I can,
And the wisdom to know the difference.
While that opening line is most often quoted, the rest of the prayer is not as easy to pray. It invites us to do hard things, and to be formed. To be intentional about our own formation, rather than just letting it happen.
Living one day at a time;
Enjoying one moment at a time;
Accepting hardships as the pathway to peace;
Taking, as He did, this sinful world
As it is, not as I would have it;
Trusting that He will make things right
If I surrender to His Will;
So that I may be reasonably happy in this life
And supremely happy with Him
Forever and ever in the next.
Amen.
This year has forced us to live one day at a time, not knowing what each day or week will bring. What has gotten me through a lot of it is choosing to do what I can—which has included running. Small choices—get out of bed, gulp some coffee, head for the trails—made one after the other, day after day. My spirit has been formed this year by choosing to get outside (safe and socially distanced) to run. There are things I cannot change but I can put one foot in front of the other, on a trail or a road, to find a moment of freedom (and endorphins).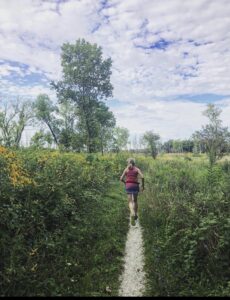 By doing something that can be hard (running), I grow in my ability to do other hard things. By accomplishing a few miles, I come to believe that I can get through the rest of the day. And to believe that these hard things are indeed a pathway to peace. We don't drift into positive change. It requires intention.
What would happen to my spirit if I could "Accept hardships as the pathway to peace"? We want to be peaceful and happy, but according to this time-tested wisdom, those results, that formation, happens when we surrender, accept hardship, and perhaps revise our expectations. What if that surrender will form our spirits, not into a hardened fist of fear, but to an open hand of receiving good gifts?
What if, as you begin the second year of living in the age of Covid, you could decide to embrace serenity, by doing hard things? By accepting and embracing the challenge of hard things? And in so doing, embark on an opportunity to have your spirit formed into a new shape?
What if you were to shift from unintentional spiritual formation (more angry, fearful and fatigued) to intentional formation? What practices or prayers or relationships would form your spirit in a positive way, a healthy way?
The Serenity Prayer invites us into serenity, courage and wisdom. What specific, intentional steps do you want to take, to move toward those things?
(Please share your thoughts in the comments.)