We're giving away a free book today. Read on to learn how to enter to win. UPDATE: YOU MUST TWEET OR COMMENT BY MIDNIGHT CENTRAL TIME TODAY, JAN. 22, TO BE ENTERED IN THE DRAWING.
This year marks the 15th anniversary of the publication of my first book God's Whisper in a Mother's Chaos. In it, I explored the simple question: how do you care for your own soul when you are caring for small children? I talked about prayer, solitude, spiritual formation, and my own feelings of doubt and guilt as a mom. I wrote it when my children were 1 and 3, which was unusual at the time–most "mom books" were written by moms whose children were grown (finally giving them time to write).
One of the first rejection letters I got when I began trying to find a publisher said something along the lines of this: "We can't quite figure out who your target audience is. It seems like a book for readers who want something intellectually challenging and spiritually deep on one hand. On the other hand, it seems like a book for moms."
Gaaaaahhh! The fact that a major Christian publisher thought that "moms" and "intellectual" were mutually exclusive terms was disheartening. Thankfully, I think that's finally changing.
Lee Strobel, a colleague and mentor at that time, encouraged me to "raise the bar for mom books" and thankfully, the awesome team at InterVarsity Press published the book, which is still in print. And the publisher that first rejected God's Whisper (that would be Zondervan) went on to later publish two of my books.

Thankfully, in the decade and a half since then, publishers have realized, hello, that you can be a mom and also enjoy intellectual challenge and crave spiritual depth. And the same truths hold: when we quiet our souls, we can hear the whisper of God. When we trust, and cease striving, God finds us.
Case in point: Found: A Story of Questions, Grace & Everyday Prayer by Micha Boyett. She writes beautifully about her struggles to pray, to find God, and the amazing realization that she can be found by God. And she does this in the context of raising her two-year-old. (I wrote more about the book earlier this week here).

We've got a free copy of Found to give away. To enter, leave a comment below. To get a bonus entry Tweet about it using the hastag #Foundbook, like this (you can click to tweet below):
[ctt title="Win a free book KeriWyattKent interviews Found author @MichaBoyett at http%3A%2F%2Fwp.me%2Fp37y1x-xu #moms #prayer #Foundbook" tweet="Win a #free #book @KeriWyattKent interviews "Found" author @MichaBoyett at http://ctt.ec/00S6J+ #moms #prayer #Foundbook" coverup="00S6J"]
Here is part two of our interview with Micha.
Be sure to visit her website at www.michaboyett.com, and tweet and comment to enter the drawing for a free copy of Found.
Q. What would you say to someone who feels he or she isn't "doing" enough for God?
In my time in ministry to high school and college students, before and since I left youth ministry, I find this phrase repeated over and over by well-meaning young people in search of their purpose: "I just want to do big things for God." At some point in our relationship, I feel like it's important to ask them, "What is a big thing to God?" And I think it's important we ask ourselves that too.
One of the prayers I pray for my boys is that they would "love the things that God loves," and I believe the things God loves are most clear in Jesus' Sermon on the Mount. What does God love? The poor in spirit, those who mourn, the least of these, the poor in spirit, the persecuted, the merciful, those who hunger and thirst for righteousness. In other words, the smallest among us, the least impressive, the neediest, the weakest.
I pray my kids will notice and befriend the weirdest kid at school. That's how they'll learn to understand God's love for us. And, if we stop and consider Christ's words in his most famous sermon, we'll recognize a God who isn't looking for "big things," but a God who is looking for small people who love deeply.
"Doing" enough is never measurable. Neither is "loving the things God loves." So, maybe, we can stop trying to measure and begin simply offering our small lives to the God who loves small things.
 Q. One of your biggest struggles has been to see your daily tasks as valuable to God. How does that change of perspective affect you today with two small children?
Honestly, I have a hard time offering this book to the world and presenting myself as someone who is now "Found." I am in one sense, of course. So much has changed about how I understand myself and God and my calling in motherhood. But I still find myself going back to the same patterns of guilt, anxiety, and fear of failure.
But if there's one way this story has changed me deeply, it is that I have found freedom to believe wholeheartedly that my life is valuable to God. The dishes I wash, the boys I sing to, the husband I drink coffee beside in the early morning lamp-lit living room. All of it is valuable because God is there. And if my life is valuable, I don't have to live frantically. I really believe I've been released from that. Which is such a gift.
Q. What does it mean in your life to see God in the smallest moments?
It means it's all a gift: the rush of getting the kids dressed and into car seats in the morning, the molasses-slow process of letting my almost-three-year-old do it (whatever it is!) himself. The sweet moments when my kid picks me a flower and the wild stress in the car when I pull over and cry because that same kid is throwing a tantrum and I don't know how to help him. The moment when a friend from the past calls while you're (miraculously) out alone and you talk and walk aimlessly on the phone for an hour. The younger, cooler friends who invite you to raid their closets for a date night with your husband. This is ordinary life and ordinary life is what makes up our days. If our ordinary moments don't matter to God, then why are we here? Of course they matter. The spiritual work is simply recognizing. To recognize we have to first be aware. Then we can learn to be grateful. And then, we slowly learn to pray in the middle of all that life.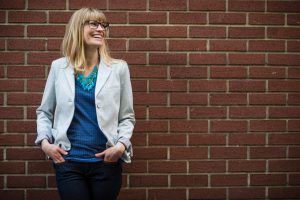 Q. You write that, "The spiritual life is never just a forward climb. It is a plunging under the waters and a being rescued again and again." How have you seen that in your own spiritual life?
Even as I wrote this book, even as I told the story of God rescuing me from my own fear and guilt, I struggled with anxiety to the point of panic attacks and a return to to therapy. It's so important that we understand how incredibly beautiful and complicated we humans are. God is healing us, but most of the time, the healing of our minds is a slow-moving process. And, gloriously, we have a lot of layers for God to work himself into.
That's one of the reasons I love the old Baptist invitation hymns from my childhood. "All to Jesus I surrender," we sing. And we must keep surrendering, day by day, moment by moment. Because there is so much to release and so much to receive.
Q. Explain how Christians and non-Christians alike can relate to and practice the type of prayer you describe in Found.
Whatever a person believes about God, whatever their notion of Jesus' life and teachings, every human is searching for identity. We are seeking wholeness. Sometimes, even when we're uncertain what we believe, we need good words in us. We need help clearing out the cobwebs in our spirits.
That's one of the gifts of liturgy: the freedom to pray good words. Perhaps even a non-praying person or a person who isn't certain of what he or she believes can still find beauty and calm in liturgical prayers, and even in the Psalms.
I feel, though, that non-religious people can probably gain the most from the Examination of Conscience prayer. We all know how to look back through our days as we lie in bed at night. Whether we attach the good things in our days to God's grace or not, the happiest people I know in this world are the grateful ones. And the deepest people I know, the ones I most admire, are those who are aware of their actions and how those actions affect other people. The Examination of Conscience allows us to process both the gratitude and the regret. And it gives us a way to take those feelings and offer them to something bigger than ourselves.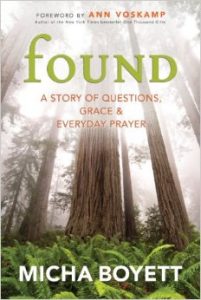 Be sure to leave a comment or tweet to enter the drawing to win a free copy of Found: Questions, Grace & Everyday Prayer.