One of my favorite Thanksgiving memories in recent years was the year we welcomed a family of Muslim refugees to gather at our table with us.
Our church had put out a call to include refugee families, newly settled in the Chicago area, in our holiday meals. We coordinated with Exodus World Services, a non-profit that helps refugees. As we considered the words of Jesus to all who claim to follow him, "I was a stranger and you invited me in," and also our family's call to hospitality, it seemed this was what God was inviting us into. As it always does, the practice of hospitality formed us spiritually that year.
The Sudanese family—Ahmed, Leyla, their teenage son Kamal, and sweet little girl Hamdi—shared a meal with us and another family from our church. The son spoke a bit of English, and translated for his family as needed. But we also found other ways to connect.
The day was unusually warm and sunny for November, and all of the kids played outside for a while, shooting baskets and putting golf balls on our front lawn. Our friends' daughter played our old piano with Hamdi, teaching her a few simple melodies. The kids played pool in the basement, or Jenga, which requires no language but laughter.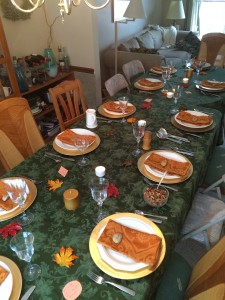 At the dinner table, we went around the table and told what we were grateful for. We also explained to our guests the story behind the American celebration of Thanksgiving: how a couple of centuries ago, people fleeing persecution fled to our shores to start a new life. The look of recognition and connection in our guests' eyes almost made me cry. It was so simple, yet so profound. Here was a family, who had spent the last three years in a refugee camp in Kenya, where they'd fled after their lives had been threatened in Sudan. They were, indeed, pilgrims.
As the family got ready to leave (my husband had picked them up in Chicago and was getting ready to drive them back), I gave them plastic containers of leftovers. Ahmed called his son over, and then looked at me. He tapped his chest and then pointed at me and spoke words I did not understand. "He says, 'Your heart is good,'" the son told me. "As is yours," I replied.
I tell this story not to brag, but to remind us: refugees are people. Welcoming them expands your heart toward people, and toward God. They are the neighbors Jesus told us to love. They come not to harm, but to flee from harm. And showing them hospitality was one of the most rewarding things I've ever done.
Fear not
Because of the recent attacks in Paris, many Americans find that their compassion has been eclipsed by fear. They worry that extremists will "sneak in" as refugees. Governors across our country have vowed not to accept refugees, which actually, is not something they can do. A recent article in The Economist spelled out the process by which refugees can come to America—and actually, the review process is arduous and lengthy. If an extremist wanted to "sneak in," doing so as a refugee would be a complicated way to do so. Is it possible? Perhaps. Does it mean we turn away all refugees? I don't think so. The U.S. already takes in thousands of refugees from all over the world every year.
According to the article in The Economist:
"Refugees apply for resettlement at American embassies or through the United Nations. If they pass that first hurdle, they are screened by outposts of the Department of State all over the world. They undergo investigations of their biography and identity; FBI biometric checks of their fingerprints and photographs; in-person interviews by Department of Homeland Security officers; medical screenings as well as investigations by the National Counter-terrorism Centre and by American and international intelligence agencies. The process may take as long as three years, sometimes longer. No other person entering America is subjected to such a level of scrutiny.
Refugee resettlement is the least likely route for potential terrorists, says Kathleen Newland at the Migration Policy Institute, a think-tank. Of the 745,000 refugees resettled since September 11th, only two Iraqis in Kentucky have been arrested on terrorist charges, for aiding al-Qaeda in Iraq."
I hope you'll read the entire article. 
Beyond public policy, if we follow Jesus, we must consider what the Bible says about how to treat refugees. It's a topic that is clearly addressed in Scripture, as outlined in this helpful article from Relevant Magazine.
For example:
When a foreigner resides among you in your land, do not mistreat them. The foreigner residing among you must be treated as your native-born. Love them as yourself, for you were foreigners in Egypt. (Leviticus 19:33-34)
For I was hungry and you gave me something to eat, I was thirsty and you gave me something to drink, I was a stranger and you invited me in, I needed clothes and you clothed me, I was sick and you looked after me, I was in prison and you came to visit me.' (Matthew 25:25-36)
What you can do
First, do not give in to fear. We are called to love not only our neighbors, but our enemies. What would that look like? Maybe, it's just changing how you think, what you say or post on social media. Maybe it's educating yourself about refugees, reading both sides of the story.
Second, pray. Pray for those who are genuinely seeking safety, running from terror, not bringing it with them. Pray for wisdom, and discernment, and courage to act.
Helping refugees is complicated, even logistically. A year later, we tried to have another refugee family come for Thanksgiving. My husband drove to the city, went to their building, but could not find them. Despite phone calls to the agency who had set up the meeting, we were unable to locate the family. The agency said it was possible that they had gone with another refugee family to someone else's house. The language and customs barriers are great. It was frustrating. But that doesn't mean we shouldn't try.
When the refugee crisis first started to make headlines this summer, I called a friend who is very involved with Exodus. We had an empty room, could we offer it? She explained that Exodus tries to settle refugees near each other, and near public transportation that they can use to get to jobs, grocery shopping and so on. My home in the far-flung suburbs where public transportation is almost non-existent would actually not be helpful and would pull a family away from the support they need. However, she said, since the refugees often arrive with nothing but the clothes on their backs. They need some basic things to set up house, like pots and pans, towels and sheets, and so forth. She would be glad to take a donation of gently used household items.
How could you welcome the stranger this Thanksgiving? That doesn't necessarily mean hosting refugees for a meal, but it could. Or simply invite someone who would otherwise be alone on Thanksgiving (that's what we're doing this year). You might want to contact a refugee organization like Exodus and offer a donation of food or household goods. Take baby steps toward extending hospitality, welcoming the stranger, and choosing not to let fear rule your heart.
"They also will answer, 'Lord, when did we see you hungry or thirsty or a stranger or needing clothes or sick or in prison, and did not help you?'
"He will reply, 'Truly I tell you, whatever you did not do for one of the least of these, you did not do for me.' (Matthew 25:44-45)
Next steps:
Provide a Welcome pack to a refugee family
Invite someone who is alone to share the holiday with you and your family.
Read my book Simple Compassion