The smell of cinnamon assaults anyone who wanders into my kitchen today, as my Christmas baking has begun. Christmas music plays, and I bake. It's an annual tradition.
Earlier this afternoon, the counter was crowded with my old recipe book, flour and bowls and mess.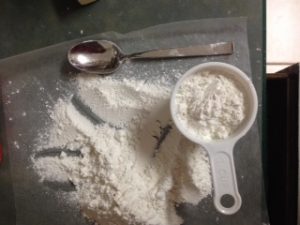 Now, loaves of pumpkin bread cool on the counter, waiting to be tucked into boxes and mailed to far-flung family members and friends.Out of the mess and chaos that becomes bread dough, comes food. Sustenance. The clearest way I know to say I love you to people I care about.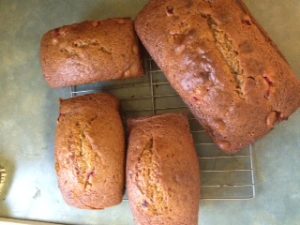 Yes, I know I've been MIA for a while from the blog. But the Advent season has inspired me to be in touch. So tell your friends to stop by. Because I hope to be blogging a lot this month. Here's why: blogging makes me slow down and notice and respond to what is going on around me. It's an adventure I don't want to miss.
Steve Carter, teaching pastor at Willow Creek, gave a great message this morning on Making Christmas Count.  In fact, it was that message that inspired me to blog again.
I've been pondering a couple of things he said all day. First, he asked a question we often ask friends and our kids this time of year: What do you want?
But he meant it not as in, what would you love to find under the tree on Christmas morning, but rather, what do you really want this season to be about? What would it look like to get Christmas "right"? To feel, in a month, like you experienced Immanuel, God with us?
What do you want? What is the soul desire within you? Because it is often that desire, for a meaningful, rich, simple season that, ironically, drives us to do too much, to buy too much, to hurry too much. Steve urged us to be intentional about how we spend our time during the Advent season.
Later in his message, he said, in a clever play on words, "Choose your own ADVENTure." Make Advent an Adventure.
I love this. Just being intentional about the season would be an adventure for many of us, right?
So today I've been thinking about how I could make Advent an Adventure. Between shopping and baking (and working full time) how can I even find time for an adventure? What would that even mean?? I love traditions–like baking and listening to Christmas music. But what would it look like to mix it up a bit, to find some new ways to really focus on the season?
What could I do this December that I typically don't do? I want to make this December an adventure in which I discover Immanuel, God with us, in the midst of the everyday.
An adventure, by definition, means that you don't know exactly what will happen. You're open, you move, you notice, and respond. Sometimes, you use the gifts you've been given in a new way.
Today, as I said, I've been baking. But I also got outside a bit, carving out some time to just see who God put in my path. Several times through the day, I took a break to just talk with my neighbors. I tried to love whoever God put in my path, just by being there.
I'd like to invite you to an adventure over the next 25 days. What new thing does God want to show you? What do you really want? What if what you want is what God wants for you?