So to celebrate a rather significant birthday, I took a trip to California. I had fun, I worked, and I took some time to pay attention.
I visited relatives, including my cousins new baby twins and my 95-year-old Grandmother, my parents and my daughter.
And I hiked in Yosemite National Park with my daughter. We share a love of the outdoors, of beauty. We even went snowshoeing, a first for me. Tromping through the snow was a crazy-tough workout, but the woods were so beautiful, and the view at the end of the trail from Dewey Point was so amazing, it was totally worth it.
As typically happens when I am in wild natural settings, I see things more clearly. Not just because the mountain air is clean and crisp, but because the distractions that normally surround me simply aren't there. I see, and I hear. As the old hymn says, "All nature sings, and round me rings the music of the spheres." The woods, particularly, are a place where I feel safe, happy and close to God.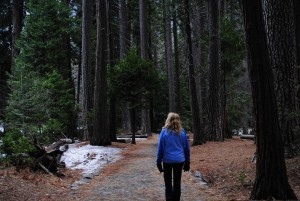 Two key points of clarity emerged from my time in northern California.
One: I am the kind of gal who needs to be outdoors, who sees and hears God in the wild beauty of creation. To stay close to God, I need to get out into creation, to feel the snow crunch under my boots or the sand between my toes. I need to restore by soul by taking to the woods every once in a while.
Two: I traveled with my laptop, and even though I took time for hiking and visiting, I also filed a story from my hotel room one day, and managed an online community I'm building from a Starbucks another day. And I enjoyed it. I get to work with great people who are doing significant work, and that is an amazing privilege. I have a job that I can do just about anywhere, and I am really grateful for it. I need to express that gratitude and lean into the blessing of it everyday, whether I'm in a Starbucks in Half Moon Bay or in the spare bedroom of our suburban Chicago home.
Both of these realizations came from taking time to listen to my life. To notice where I feel God, and where I don't. To live with gratitude for the beauty and the work, because both bring me into the presence of God.
Where do you notice God? Where do you hear his voice? When you listen to your life, what do you hear about you, about God, and about how the two of you connect?