What does it mean to love my neighbor? Some of my neighbors live on a tree-lined suburban street. Others live elsewhere: in slums, small villages, brothels or sweat shops. How do I love those neighbors?
As I wrote yesterday, Jesus tells us to love our neighbors. Sometimes we do that by letting them love us, by just spending time. By saying yes to building community.
The neighbors I can't see (but can easily research online) also need my love–especially when those neighbors are trapped in slavery. As millions of them are. And while we cannot solve every problem on the planet, we cannot ignore every problem either. To pretend this doesn't exist is not an option, if we say we are people of faith. As it's written:
"Whoever shuts their ears to the cry of the poor
will also cry out and not be answered." (Proverbs 21:13)
That's a harsh verse. It seems to be saying that if I've got problems and cry out to God for help, but meanwhile I'm ignoring the plight of the poor, God's not willing to listen. Wow.
Then again, do we somehow think that slavery is ok? Or too complicated and corrupt to change? I have often felt this way, overwhelmed by the tragedy of it. But that seems crazy, doesn't it? To just give up? The good news is, we can do something to help. This is something that can be changed in our lifetime. We have the power to change life for our neighbors–for young girls trapped in child prostitution, for young boys working to make bricks by hand. Watch this YouTube video to learn more about their plight–and the positive steps that are being taken to help end slavery.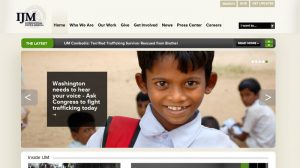 Slavery did not end with the Emancipation Proclamation, or with the work of abolitionist William Wilberforce. There are more people trapped in slavery today than at the height of the trans-Atlantic slave trade. Even here in the United States alone, nearly 20,000 people are trafficked each year.
My friend and fellow Redbud Writer Natasha Robinson is a passionate woman who cares about her neighbors all over the planet. As an advocate for justice, she's refusing throw up her hands in despair and say, "there's nothing we can do! The problem is too complex! Too big!"
So as a Freedom Partner with International Justice Mission, a Christian anti-slavery organization, she's on a Five Day Challenge to collect signatures to mail in to Congress, to lobby them to pass the Trafficking Victims Protection Reauthorization Act. Read Natasha's blog to learn more about this legislation, which will strengthen the fight against slavery both in the U.S. and overseas.
I'm joining with Natasha, to help her collect 100 signature cards to send to Congress.
It's not hard to help. Here is an easy way:
Print out and sign this advocate card, which you'll find at: http://www.ijm.org/docs/justice_campaigns/2011-TVPRA-Card.pdf
You only need to include your name, must include city and state (address is not required), Dear: "Senator," and your signature.
Scan and email page 2 of signed postcards to Natasha at: Natasha.robinson@hisgloryonearth.com
Thanks for taking time to speak for those who cannot speak for themselves!