True confession: I don't love shopping at this store. It's kind of well, cheap—but I guess that's the point. Sparse, utilitarian. Countless items, each a dollar.
I've been here (and at Goodwill) more in the last two months than I have in my entire adult life. Because refugees. Their homes destroyed, their safety threatened, they arrive from Syria or Pakistan or Jordan with nothing. They need dish towels and a broom, dishes and cleaning supplies. They need, even more, to be welcomed.
Disheartened by online and face to face conversations with people who let fear hijack faith, who call for "extreme vetting" without even knowing just how vigorously vetted refugees already are, I exhaust myself with arguing. No, not all Muslims are terrorists. No, they are not all "commanded to lie." Sigh. They are the ones fleeing for their lives. They've been screened so carefully. They've had a long journey, spent years in waiting. (The average wait in a refugee camp is 17 years!) I'm so tired of the hate that so-called Christians spew, in the name of safety and patriotism. Claiming they are just being "wise" and trying to justify their fear by twisting and braiding truth into little alternative facts.
I cannot argue any more. Jesus said to welcome strangers, that in so doing we'd welcome him. So I act. I welcome a family, sign on to visit them each week. In the darkness, I light a candle. It feels small.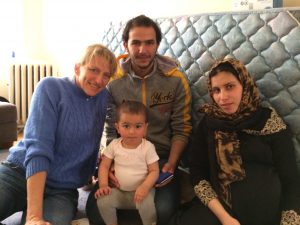 The next week, I shop at the dollar shop to welcome another family with not just a smile, but toothpaste and Windex and everything else.
The list from the refugee agency is long. It requires investment of money and time. Over a week or so, I gather all they'll need to set up house, plus very basic food: flour, oil, rice, potatoes. One day, taking inventory, I look around my own kitchen. I notice multiples: sets of measuring cups, spatulas, plastic storage containers that seem to multiply, piles of kitchen towels. Maybe I don't have to get everything at the store.
I read the story of John the Baptizer. (I think John was an 8 on the Enneagram. He gets under my skin, because we have that in common, but it's also why I like him a lot).
John said to the crowds coming out to be baptized by him, "You brood of vipers! Who warned you to flee from the coming wrath? Produce fruit in keeping with repentance. And do not begin to say to yourselves, 'We have Abraham as our father.' For I tell you that out of these stones God can raise up children for Abraham. The ax is already at the root of the trees, and every tree that does not produce good fruit will be cut down and thrown into the fire."
"What should we do then?" the crowd asked.
John answered, "Anyone who has two shirts should share with the one who has none, and anyone who has food should do the same." (Luke 3:7-11)
John's audience might be tempted to justify themselves by religious affiliation, saying they had Abraham as their father, they were a part of the right crowd, belonged to the correct faith tradition, held an unassailable pedigree. In the same way, Christians today claim they are on the right side of almost any argument, even politics, because they, like the children of Abraham, see themselves as chosen. They're chosen, they're in, and everyone who disagrees with them is out.
John the Baptizer scoffs, challenges them to put their faith into action. Challenges me. Why do I have so much stuff? Why do I hang onto it? He doesn't say go buy a shirt for the poor, he says give him one of your own. What would it look like to live this Scripture? I walk through my house, as if I am shopping at the dollar store, as if I am seeing my inventory for the first time. I look at my stuff with the eyes of John. Anyone who has two metal spatulas should share with him who has none. Anyone who has two sets of measuring spoons should share with her who has none. Anyone who has 30 towels in their linen closet should share a few with a family who has none.
God whispers an invitation: Give. Simplify. Trust.
Soon, between trips to thrift shops, Goodwill, donations from a few generous friends, and shopping in my own overstuffed closets and cupboards, the boxes for a newly-arrived refugee family are full.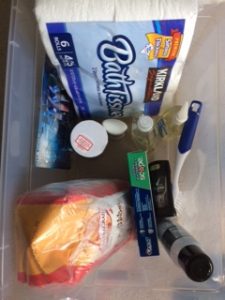 When I visit them, it takes several trips to unload my car and pile the stuff in the tiny apartment where a couple from Pakistan is staying. The woman takes my hand in both of hers and looks into my eyes. "Thank you, sister," she says, gently kissing the back of my hand. "Thank you, sister." It is soon evident this is the only English she knows. This woman and her husband are Ahmadiyya Muslim—a peace-loving sect within Islam.  We have different beliefs. Sharing food and supplies is not an endorsement of their faith, but the embodiment of mine. And it is an affirmation of their humanity. They matter to God, and therefore, matter to me. They are made in God's image, and therefore loved.
No matter their faith, they are my neighbors. Newly arrived, with nothing but a small suitcase of clothes and no supplies to set up their home. And God has not just invited, but commanded, that I love them. John's words tell me how to do that. His directions are super clear: share food and clothing (and spatulas and towels) with those who need them.
And I think—Christians who fear, who assume they are "right" about refugees—it's too bad because they're missing out on this. It might seem inconvenient to shop, to gather, and then to drive to the city to deliver boxes of supplies to strangers. But God's presence is palpable when I embrace that inconvenience.
I think to myself, holding this woman's hand: no, thank you. You've offered me the opportunity to engage in spiritual practices that transform: generosity, simplicity, gratitude, hospitality. Clearing my closets has scrubbed my soul. Shopping at the dollar store has brought me closer to Jesus. Giving, not just writing a check or clicking an online donation, but giving away my possessions as Scripture tells me to, produces fruit: love, joy, peace. I experience unexpected intimacy with God by embracing inconvenience.
What is God asking you to give away, and inviting you to receive? What inconvenience, if you embrace it, might allow you to experience divine presence?
For more info on how you can welcome refugees in the Chicago area, contact Exodus Word Services.
You may also enjoy reading these past posts: Radical Hospitality Trumps Hate. or Embracing Inconvenience and Finding GodSpace. You can pre-order my new book, GodSpace, on amazon or B&N.com