She was just a scared teenager, conscripted as a concubine for the king. But she changed history. What happened?
A challenge from a spiritual mentor led her to fast and pray.
This week, our on-line book club is looking at the first chapter of Simple Compassion, entitled "Position."
Just to fill you in: Each member should read the chapter before joining in the discussion each week, as well as the Scriptures listed in the leader's guide at the back of the book.
Each week, as you read the chapter, pay attention to your soul's response as you read. Often, God speaks to us not just through things we read, but our response to what we read. Where do you notice in yourself what one mentor of mine called "resonance, or resistance"? In other words, where do you find yourself strongly agreeing, or strongly disagreeing? Share one of these with the group.
Then, take a look at the compassion step at the end of the chapter. Share your response to the questions there: Is there a situation you're facing that you don't know how to handle? Are others looking to you to step up in a situation where you feel inadequate? How is your situation similar to Esther's? Have you prayed about it?
This chapter focused on the story of Esther in the Bible. What can you learn from Esther? What do you have in common with her? What situation do you need to fast and pray about, and then speak truth in?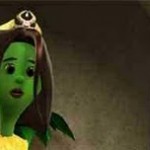 One of the suggested group activities is to watch the Veggie Tales movie "Esther." It's a very well-done, but kid-friendly, re-telling of the story. (Click here to watch a YouTube of the trailer for the movie) If you are part of a virtual group, this is something you can do with your family, rather than your group.