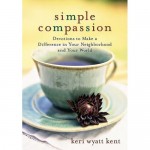 Those of you who heard me on Midday Connection yesterday (Moody Radio) and wrote in asking about the free books:  you've been entered in our drawing to win a copy of Simple Compassion.
I always love visting with Anita and Melinda, the amazing women behind the Midday Connection show. They are wise and kind, and always make me feel welcome at the studio.
I also mentioned briefly on the show that I will be partnering with Breakthrough Urban Ministries to put on a one-day Simple Compassion workshop on February 20. Mark your calendars now! this practical, hands on workshop will include teaching from me, group discussion (facilitated by amazing women) and some time for thought-provoking reflection. We will discuss simple next steps that you can take right away to live out God's directive in Micah 6:8: to act justly, love mercy and walk humbly with your God.
If you have been wondering how to implement compassion and justice in your life, I think you'll really enjoy this workshop. Registration details will be available soon–and each person who attends will receive a free copy of Simple Compassion, compliments of Zondervan Publishing.
We'll announce  the winners of the free books on Friday of this week. But meanwhile, have a joyful Thanksgiving!!