(Note: Yes, I know it's Friday, and we will be giving away a book today! So read this post, then leave a comment about it by midnight Saturday, and we'll pick a winner on Monday.)
The jungle-like air in Chicago this summer, wet and thick, seems to be plotting against me. Or, at least, against my efforts to exercise. When even the air-conditioned house feels humid, it's hard to get motivated to go out and swim through it.
I ran about two and half miles yesterday. I have been running, on and off, since high school. And yet, I had to push myself not to stop at two miles, to make myself keep going. I wonder–when will this ever get easy? My 18-year-old, who grew up playing soccer, also runs. She'd been running 3 to 5 mile runs all summer, the other day she went out and did eight. Eight miles. Even when I was 18, I couldn't do that. Last summer, she decided to run a marathon. She trained with Team World Vision, just following the schedule on their website. And finished the Chicago marathon in about 5 hours. Good grief.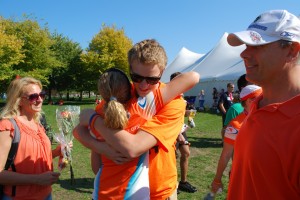 When I got back from my run, I told my daughter about how frustrating it was that running never gets easier. "I suck at running, even though I've been doing it for three decades!" I said. She smiled sympathetically. "Well, you're good at yoga," she said. Yoga, you get to hold still. That, I'm better at, it's true.
Which raises the question–should I only do yoga? I need some cardio–it helps me sleep better at night, and keeps me sane. Just because we're not that good at something, or it's hard to do, should we give it up, just admit defeat?
I believe God wants us to do the things we're good at–he made us good at them. But sometimes, we have to do the things that are hard. Because in doing them consistently, they become easier. But part of what empowers us to do the things that are difficult is to enjoy the things that are easier.
We have to love when we'd rather criticize. We have to work when we'd rather lie by the pool. We have believe when the doubts come pounding on the door. We have to pray when we'd rather complain.
This is what I think God is talking about, when he urges us to run the good race. Because here's what I believe happens: when we persevere, the "have to's" slowly morph into "get to's." We get to love, we get to work, we get to have faith–and none of it comes from our own effort alone, but from God's mercy on those efforts. We actually come to find joy in those difficult things, because they draw us closer to God.
When I was my daughter's age, I actually loved running. Because I was young and strong, and it was easier. But the reason it was easier was not just that I was younger. It was because I ran every day. Or nearly every day. I was, in a word, consistent.
It is harder to do well at things you do inconsistently. That's why the Bible tells us to train ourselves for godliness. The things we do daily, even when we don't feel like it, become easier over time.
"Do you not know that in a race all the runners run, but only one gets the prize? Run in such a way as to get the prize. Everyone who competes in the games goes into strict training. (1 corinthians 9:24,25)
The Apostle Paul often used running as a metaphor for the life of faith. Because that's often how it feels. Sometimes God calls us to "run the good race"–to persevere even when it's hard.
The other truth is this: it's harder to run when you haven't had enough rest. Some of us run and never stop. My daughter's training schedule for the marathon included lots of running, but it also included rest days–days when your job was to NOT run, to let your body recover. In the life of faith, running the good race also means caring for your soul enough to rest, as well.
What thing in your life right now is hard? And you feel like you're not that good at it? Maybe it's your faith in general–just following God is hard. I have days, weeks even, where God seems sort of quiet, and I wonder–where is he? Is he silent, or am I just not that good at hearing him?
Where is God calling you to keep running? And where do you need to rest, so that you'll be ready to run again? Maybe a relationship that's strained, a job that's exhausting, a ministry that is in a dry season? Where could your consistent obedience  collide with God's mercy to eventually bring you joy?   I'd love to hear. But right now, I'm off to go for my run!
HEY, IT'S FREE BOOK FRIDAY! so, leave a comment below, answering the questions I've posed above. We'll pick a winner later today, who will win a copy of Rest. (U.S. residents only, previous winners ineligible. Last week's entrants will also be included in this drawing. If you left leave another comment, you get a second entry!)