Where does a mom go, when she finally gets the courage to leave an abusive marriage? When that woman has finally had enough, and gathers her courage and few of her possessions and flees, where can she go? Where does a single mom go when she's lost and afraid and alone?
For many women, even if they have a job, the answer is simply: nowhere. The risks for women fleeing domestic violence with children are high: they often end up homeless, or living with friends, or trying to navigate a maze of social services that might put a roof over their head temporarily.

Many single moms, to survive, use credit cards or other debt to be able to feed themselves or their kids. As a result, many women are not only homeless but on the verge of bankruptcy as well.
Fellowship Housing is an organization that offers those moms a chance to rebuild their lives. They work with single moms from a variety of situations (not just leaving abuse) to help them become self-sufficient.
Women accepted into the Fellowship Housing two-year transitional housing program work with a case manager to move them toward independence. They set up a very strict budget, which includes specific goals to retire their debt. The moms live in apartments owned by Fellowship, in community with other moms, as they work toward getting a home or apartment of their own. Read more about the program specifics here.
In fact, a generous donor at Fellowship has set up a matching fund for debt retirement. Qualified applicants can get help paying off their debt through this matching program.
How do they pay off their debt? The Fellowship case workers help each women set up a budget, with specific limits on spending for various categories. They walk beside them as they learn to live frugally and simply, and move toward financial freedom.
Fellowship offers emotional and spiritual support as well, helping moms find jobs, and to build a support network of friends, a church, other moms, mentors. They get the support they need to be better parents, to find a job, to heal emotionally from the past. In some cases, Fellowship has worked together with Habitat for Humanity to help moms get into a Habitat house.
I believe the work this organization does really matters, and the stories of moms are compelling (watch a few short videos on their website here). I love the accountability and the empowerment that Fellowship provides to help moms achieve independence.
Which is why I'm honored to be a team leader for  Fellowship Housing's 5K, to be held May 16 here in the Chicago suburbs. Our team's goal is to raise $1000 to donate to Fellowship.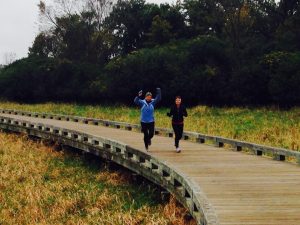 I suppose I could just stay on the couch and write a check to donate money to Fellowship, but I love the idea of a fund-raising run. Why?
The run itself will be a community event, bringing attention to the important work Fellowship does.
Running is something I enjoy, but requires effort. I love the idea of training and putting forth effort in order to help these moms, who are putting forth effort themselves.
I'm not doing this alone—I'm gathering a team. Just as these moms need a team to help them accomplish their goals, our team will work together to offer them a bit of help.
If you're a runner and want to join our team, click here to sign up. We'd love to have you join team HIPster. Search for team HIPsters (after my fabulous running group, HIP Athletic). Then share the fundraising page with friends and ask them to sponsor your run.
If you'd rather stay on the couch, no problem. You can still donate to support our team. We've raised $230 so far, and we have 30 days to raise the remaining $770.
Visit our team page to sponsor our team and help single moms.