Much as I hate to admit it, I have been in what I call a season of doubt lately. I take great comfort in John Ortberg's latest book, Faith & Doubt, so titled because his premise is that those two seemingly antithetical things can coexist. You can have both faith and doubt. They actually have a symbiotic relationship.
But I've been living in the doubt place lately. There are many reasons–some disappointments, some questions, it's pretty complicated and murky. But I think Jesus is pulling me out of the swamp, laughing all the while.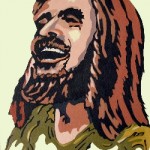 For the last month or so, I've been living in that uncertain place–between major projects. No measurable income in sight, which is scary for a freelancer (whose husband is a realtor–hello). Ideas for books and articles swirling but not coalescing. I prayed, "God, if you even have time to think about this, (which you likely don't because you're busy with wars, famine and swine flu) I need to either get a job or get a contract.  I'd appreciate some clear direction." The next day (!) I got a book editing job that will keep me working full-time for the next two or three weeks. I thought–huh, maybe God is trying to get my attention. Perhaps my shepherd was seeking me out, trying to bolster my lagging faith, draw me back into the fold. Or, it could be just a coincidence (I'm still not out of the doubt woods). But either way,  I was completely grateful.
I've also been thinking a lot about journalism, and thinking I want to go back to it. And of course, that feels pretty stupid because journalism is a dying industry. But I had a great talk with a former editor who was very encouraging. who said there will always be a need for good reporters and that journalism is in my blood. But she had no budget, even for freelancers, until the fall. And then, today (God really is showing off now) I got an e-mail telling me I had won an Evangelical Press Association award for an article I'd written for Christianity Today Magazine.  The profile of Anne Graham Lotz that I wrote last fall (click here to read it)  won first place in the EPA's personality profile category. (in journalism, this is what we call burying the lead).
I hope you don't mind my bragging on this–because I really feel it's bragging on Jesus. I am choosing to believe, rather than doubt, that my Jesus doesn't want intimacy interrupted (even when I'm wrestling with questions), and that he is willing to go to extravagant lengths to seek us out when we wander, and remind us of his love.