In an act of defiance against the culture, I purchased absolutely nothing today. I spent most of the day on the couch, although I did do some writing work from said couch. I read, took a long walk. Finished cleaning up and putting away dishes from yesterday's feast. Noticed: I already have a lot of stuff. Did not turn on the television or even listen to music. I savored the silence, which fed my soul a feast.
Yesterday, I hosted Thanksgiving dinner for eleven.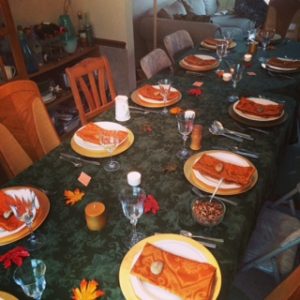 We welcomed five more friends for dessert (and yet still have a ton of leftover pie!). I absolutely loved welcoming my husband's side of our family to our home yesterday, and we had sweet conversation and lots of yummy food, and a happy dance for my niece who just got accepted into medical school. I was so glad I picked up a bottle of bubbly to go with the appetizers so we could toast this exciting news.
I am an introvert with the gift of hospitality, which sounds like a contradiction, I suppose. But actually isn't as crazy as it sounds. I love people, especially if I can feed them and hear their stories. It was a simple Thanksgiving, full of stories of both gratitude and challenges. We ate well, we laughed. But I always need a bit of recovery time after spending time with a crowd. Which just means that I typically spend Black Friday on the couch, not talking to anyone. Call it self-care Friday.
In the quiet, I was thankful, reflecting on yesterday. Gathering and feeding people brings me joy, but I typically need a day to recover—which means staying away from crowds, eating leftovers and catching up on work from the couch, doing a load or two of laundry. And scrolling through the highlight reel in my mind from yesterday.
Also, I dislike shopping almost as much as I love cooking for people. I'm terrible at selecting gifts. It's just a love language I'm not that fluent in. So buying gifts never gets me that excited. I love my friends, I want to show that love—but I'd rather I didn't have to shop to do it. Can I just have everyone over for dinner instead? (That is not going to work for out of town family and friends.)
So, I didn't shop today. Didn't buy anything, which means I saved a bundle. I cannot even begin to count the money I didn't spend, which therefore, I saved. I looked through the thick stack of ads in the newspaper but just thought—does anyone on my list really need anything? Really?
What does it mean to be introverted? It doesn't mean you don't like people, or that you're shy or socially awkward. It means you are replenished by time alone. I think it's possible that many people don't realize that they are introverts. Or they feel guilty for engaging in self-care, which includes time alone.
It's so hard to explain, but in the quiet after an event like yesterday, it's almost like my brain backs up the files, so to speak. I enjoy the moments with family and friends, but they become richer and more meaningful when I have a chance to reflect on them after the fact.
Even if you are extroverted, you might find holiday stress easier to manage if you take a bit of time to unplug occasionally, especially during this season. To pause and savor instead of just rushing on to the next thing. To simplify by editing, not adding. You might find that endless shopping and consuming only feeds discontent, while creating enough margin and space to pause actually fosters contentment.
How about you? How did you spend this day? Are the bargains we find on Black Friday worth the cost to our souls, especially introverted souls? It's not too late to schedule a soul-care Friday (or Saturday) in the coming weeks. What would that look like for you? Leave a comment below.