One of our readings this week was titled "Alone." We considered the call to come away with Christ, to spend time in his presence without distractions, without others. The call to solitude is a call to intimacy.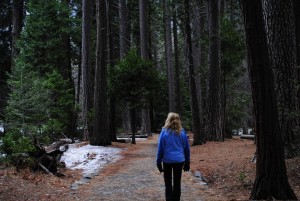 A month or two ago, I attended a wonderful solitude retreat, put on by Sacred, a ministry run by two dear friends, Gail Donahue and Joan Kelly. The Sacred retreat is a one-day experience that includes times of community, but also long blocks of solitude. Held on the grounds of a monastery, it is a beautiful and restful experience. I was able to read and ponder scripture, then spend long blocks of time walking the beautiful grounds, praying and reflecting. I truly experienced God's gentle presence and heard his voice in the stillness.
I went on the retreat with a friend, and so I experienced both solitude and community in a lovely rhythm that day. The teaching from Gail and Joan touched my heart, and affirmed what God had been placing on my heart during the times of solitude that lovely fall afternoon. When we come away to a quiet place, we get to experience just how deeply loved we are. We turn down the ambient noise of our lives enough to hear God's loving whispers.
Today I have a guest post from Gail and Joan's Sacred newsletter, in which they remind us that Lent is not just about fasting and letting go, but also preparing to embrace God's abundance. They have another retreat coming up this weekend, and there is still space available. If you're in the Chicago area, I'd urge you to make this one-day retreat part of your Lent experience. You can learn more at their website, www.mylifeissacred.com
Preparing for the Extravagant Love of Easter
Lent is a time of repentance, fasting, focused simplicity and consecration of our lives to God. During this time we remember our mortality and brokenness.  We acknowledge our need for a Savior.  We let go of things that consume our thoughts, time and devotion.  We turn our bodies, minds and spirits toward the cross, becoming increasingly aware of our desperate need to be saved. This is a sacred time of remembering that Jesus, out of His expansive love for us, paid a horrendous price for us – death on a cross.
Yet, Lent is not just about repentance. It is also about preparing ourselves to receive the Father's lavish, extravagant Easter morning love. It is a time when gratitude begins to swell in our heart for His love. As we let go of that which distracts and encumbers us, we become acutely aware that our hearts desire deeper communion with the Father, Son and Holy Spirit. We were created in His communal image and we long to receive His invitation to join them in the celebration of the fullness of life.
The prodigal son and elder son from Jesus' well-known parable give us a picture of what it means to come home to the Father's love. The Father's love cannot be earned, but is a love without bounds, that never changes and is always lavished on all those who turn from their sin and return to Him with a repentant heart. Whether you have rebelled and gone your own way, or inadvertently replaced Him with other smaller gods, or if you have been trying to earn your way into God's favor through good works; God is calling you home. He is ready to envelope you in His saving embrace of forgiveness and healing. He desires to throw a cloak of belovedness over your shoulders, put a ring of belonging on your finger and throw a party of celebration at Home with Him.
What if this Lenten season you chose to bring simplicity and space into your every day rhythm of life? What if you chose to accept the invitation of the Father to come away with Him to a quiet, sacred place with no agenda or expectation, other than to be fully present with the One who calls you His Beloved Daughter, His Beloved Son.  Creating space to intentionally seek Him out and turn your hearts back toward Him during these next forty days may be the most important thing you can do during this Lenten season.
We would like to invite you to "come home" to the Father at one of two guided solitude retreats held at the beautiful campus of the University of St. Mary of the Lake in Mundelein, IL.  There will be two identical retreats offered on either March 6th OR March 7th 8:30 to 4:30pm.  Through experiences we have prepared and your individual time with God the beauty of the parable of the Prodigal Son will come to life.  It will help guide you to remember both the suffering and joy of Christ, as you remember His sacrificial death and His glorious resurrection. You will have plenty of time to spend with God in whatever way He prompts you.  It is a time of turning toward Him in simplicity, vulnerability and trust. We believe He has already been planning for your time together!