Today, we welcome again Timothy Fall, a regular contributor of insightful comments here at Deep Breathing for the Soul, with an interesting look at superhero movies, mutual submission and Christian marriage.
         My wife likes superhero movies. My wife loves me. But I'm no superhero.
  We saw The Avengers recently. It was all we could hope for: lots of action, great lines, special effects like you wouldn't believe, and more. I kind of feared that an ensemble cast might be a bit much for the story line, but they pulled it off magnificently.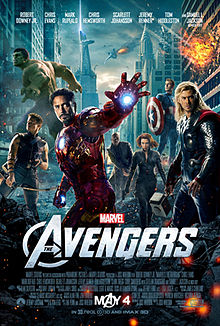 I didn't have to drag my wife to that matinee. This was her idea, in fact. We like superhero movies. For me, they are a trip back to my childhood when I read comics incessantly. For her, they are simply a good adventure story.
Part of the attraction is that most of these movies go easy on foul language and sexuality. Romantic scenes are rare, and typically played for laughs or to break the dramatic tension. If a movie tries to show anything approaching realism in sex, or if they give us a bunch of shock value potty mouthing, we won't be staying around.
You're Supposed to Protect Me!
I'm no superhero. One time we were watching something we recorded that had looked promising. It wasn't–and suddenly we found ourselves watching a scene of an elderly woman reading a radio script that ends up being a vivid and detailed description of a sex act, complete with four letter words.
I couldn't believe what I was hearing, but my wife responded more quickly than I did.
"Do we have to listen to this?!"
"Sorry," I mumble. Never mind that the remote was a lot closer to her than to me, I was the one who grabbed it and hit the stop button. Her next words hit me right between the eyes.
"You're supposed to protect me from stuff like that!"
Excuses started boiling up: "You were the one with the remote … I was as shocked as you were … Sorry, but it took me time to react … but, but, but …" They were all lame, because she was right.
Married and Responsible for Each Other
This isn't about wives being weaker than husbands. (Check out 1 Peter 3:7 if you're wondering where that came from.) This isn't a venture into egalitarian or complementarian doctrine. This is about what it means to be married. This is about two married people and how they serve one another.
Inside our wedding rings my wife and I had inscribed the first words of 1 Corinthians 13:8 – "Love Never Fails."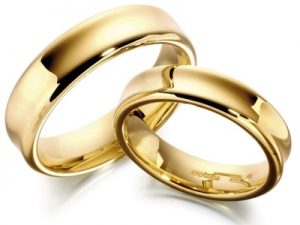 I like that translation. Using the word "fails" (instead of "ends" or "ceases") gives insight to an added dimension of the love we know in Jesus Christ. Love does not fail: it lasts forever. But it also always succeeds. And if there's anything I know about God, it's that he always succeeds. (Isaiah 46:9-10.)
For some reason, God chooses to use his people to achieve that success. It seems odd to me, anyway. I know me. I'm not all that successful at spiritual things. I can't even reach a remote fast enough to turn off a really offensive movie. Yet God tells us we are responsible to our spouses in ways that revere Jesus himself.
            Submit to one another out of reverence for Christ. (Ephesians 5:21.)
Many people look at the verses that follow this one to explain what that mutual submission looks like. That's a good idea, because it's always good to read Scripture in context. But part of that context includes the text leading up to this verse.
Live as children of light (for the fruit of the light consists in all goodness, righteousness and truth) and find out what pleases the Lord. Have nothing to do with the fruitless deeds of darkness, but rather expose them. It is shameful even to mention what the disobedient do in secret. But everything exposed by the light becomes visible – and everything that is illuminated becomes a light. This is why it is said: 
"Wake up, sleeper,
rise from the dead,
and Christ will shine on you." 
Be very careful, then, how you live – not as unwise but as wise, making the most of every opportunity, because the days are evil. Therefore do not be foolish, but understand what the Lord's will is.  (Ephesians 5:8-17.)
I'm supposed to be careful how I live, and I am supposed to submit to the needs of my wife. That day, she needed me to see what had been exposed to the light, that shameful dialog which was nothing more than a fruitless deed of darkness, and take action. Could she have done the same for me? Perhaps, but I know that this is the type of things that paralyzes her even more than it did me.
I'm No Superhero
I may not be a superhero, but when it comes to my wife I'm the one who is supposed to take action sometimes. It's not a role I can fill on my own. Rather, I rely on what Jesus told Paul: "My grace is sufficient for you, for my power is made perfect in weakness." (2 Corinthians 12:9.)
You know, my wife's not a superhero either, even though I count on her to protect me sometimes too. But in our mutual submission to one another out of reverence for Jesus, by the power of the Holy Spirit we are able to step up for one another.
I've gotten pretty good at knowing when to grab the remote, too.
Question to discuss: what does mutual submission look like in your marriage? In your relationships within the body of Christ?
Tim is a California native who changed his major three times, colleges four times, and took six years to get a Bachelor's degree in a subject he's never been called on to use professionally. Married for over 24 years with two kids (one in college; one just graduated, woo-hoo!), his family is constant evidence of God's abundant blessings in his life. He and his wife live in Northern California. He's a regular contributor to several blogs, including The Radical Journey.