What, exactly, is slack-tivism? I first heard this term last week when thousands of women on Facebook were posting single words as their status update: Blue. White. Black. Beige. The idea was that they would simply post the color of the bra they were wearing, ostensibly to raise awareness for breast cancer. I'm not sure how that raises awareness. An article criticizing this "campaign" pointed that out. Slack-tivism is doing something that really requires little or no effort, (like sharing info no one wants to know) and thinking you're being an activist, but you're actually not.
Slack-tivism is nothing new. Slapping a bumper sticker on your car (especially if its something like a "stop dependence on foreign oil" bumper sticker on the back of your SUV) could fall in that category. And I must admit I have often been a slack-tivist. I'd read an article about some injustice in the world, feel a sense of outrage. And then, just go on with my day, because I thought there was nothing I could do about the problems of the world. But that's not true. We can't do everything, but we can do something.
Actually doing something, being an activist rather than a slack-tivist, is more challenging, but more rewarding. 
So here's your chance to be an activist. As you may know, this month we're doing the Simple Compassion challenge. Each week, do one act of simple compassion (maybe in your family, your neighborhood, your city, etc.) It can be volunteering with an organization, it could be just checking in on an elderly neighbor. It might be writing a note of encouragement to someone, or bringing a meal. It might be doing some research and then writing a letter to your representative in Congress. It might be watching someone's kids for an hour to give them a little break. Let's get talking about this!
Then tell us about it. You can do that by hitting "reply" on our Say It Face to Face conversation (click here to see the page–if you look at the replies you can see a rather silly 30 second clip of me at the homeless shelter). Or, if you aren't video savvy or you're just camera shy, you can leave a response to this post. Tell us in writing about what you will do.  Do it by Thursday of this week. On Friday, we'll pick three people who have told us about their act of compassion, and they'll get a free copy of my book, Simple Compassion!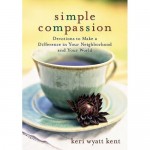 So, take a stand against slack-tivism, and you could win a book.
p.s. If you are totally stumped by this challenge, and you live near Chicago, you may want to attend my one-day seminar on Simple Compassion next month, to get inspired about living compassionately. Learn more by  clicking here.