What a week. I love to cook, so this holiday, for me, is all about the food, not the shopping. So I cooked all day Wednesday and half of Thursday, and then we ate leftovers Friday through Sunday. I still have some pretty good turkey soup left! And of course, this weekend is about gratitude, even in the face of some challenges.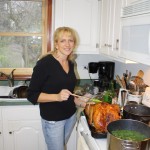 It bugged me a bit that there was so much emphasis, even on the news, this holiday weekend, about shopping. Somehow Thanksgiving has morphed from a day of thankfulness to a day to spend money on stuff we really don't need. I'm not trying to be grumpy. I appreciate that rather than buying stuff for themselves, people are at least buying things for others—they are giving gifts. And while I refuse to get up early to shop on "black Friday," I did do some shopping late Friday afternoon and on Saturday. But even as I am buying sweaters for people I love, I know they really don't need another sweater. My friends know I am gift-giving challenged, and hopefully they will give me a bit of credit for at least trying.
Now that my kids are teenagers, I can pretty much avoid the toy aisle at Target. But I ventured into that section anyway, as I wanted to get some toys for the Breakthrough Urban Ministries Christmas Store. The annual Christmas Store is is a great way to help inner-city under-resourced families. Rather than just receiving a handout or gifts, families living in Breakthrough's neighborhood (East Garfield Park in Chicago) can come to the center where the "store" will be set up on Dec. 19. They can buy items for a reduced price using regular money or "Breakthrough Bucks" they've earned through ministry activities throughout the year. 
What an empowering way to help those less fortunate!
In addition to collecting donations from neighbors and doing some shopping myself, I'm taking a group of neighbors down to Breakthrough's ministry center on Dec. 19 to volunteer at the store.
If you live in the Chicago area, you might consider donating gifts or even offering your time to this very cool Christmas event. Or, pick another charity—Samaritan's Purse is an international organization whose Operation Christmas Child provides gift boxes for children across the globe. Project Angel Tree collects gifts for children of people in prison.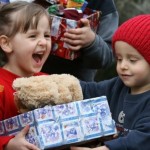 As the holiday shopping season begins, consider buying a gift for someone who's not on your list, but could use a bit of hope this Christmas season.
Oh, and with all the holiday cooking etc. I didn't get a chance to blog about the winners of the book drawing.
So our winners are Erika S., Sherri D., Sheri, Kelly J. and Susan M. Congratulations! If you didn't win this time, keep checking this blog for other book giveaways!