I know Lent is supposed to be serious, but this Lent has made me feel almost giddy.
Maybe it's the sudden influx of writing projects, which God is using to provide both financially and emotionally for me. Maybe it's the opportunities I've had this month to speak to women who are hungry to hear how much God loves them, and giving them permission to slow down, to rest in his love.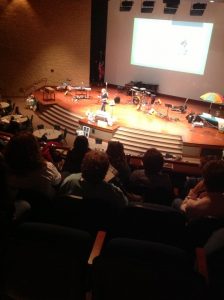 Or, maybe it's reading all these wonderful blog posts from our Deeply Loved Lent study, and seeing how God is working to remind people how much he loves them. [Tweet this.]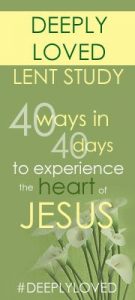 I especially liked this post from a reader, who blogs in both French and English, who wrote:
"Deeply Loved" is captivating! It reads easily, with great fluidity and softness."
Here's the truth about writing books: I write because I want to guide people into a deeper experience of God. [Tweet this.]
I want to mentor them (through the page) in spiritual practices that will create space for God in their lives.
But sometimes, you wonder if that actually happens. This blog tour has given me encouragement that, sometimes, that is exactly what happens. Another blogger wrote "these are practical strategies for moving forward in spiritual growth."  Yes. That. It's why I do what I do.
I don't know why it surprises and delights me so much that this book is doing what I had hoped it would do–to help people focus on God.
Be sure to visit our Deeply Loved Facebook page to find links to all the blogs that are participating, and join the conversation. Or follow me on Twitter @KeriWyattKent The study tweets have #DeeplyLoved.
This weekend, as we turn the corner into Holy Week, celebrate that you are so deeply loved that Jesus not only died for you, he defeated death for you. [Tweet this]
That's enough to make you giddy.