Last Sunday, walking into church, I noticed a couple of temporary pens in the front yard, where goats and sheep, bunnies and chickens, and more than a few children, milled about.
Huh, I thought. That's new.
In the lobby, a variety of booths and displays showed water filtration systems, community garden plots and more in a street fair type atmosphere. Each display was manned by volunteers eager to tell us about the work various ministry partners do around the globe to improve the plight of the poor. Also new this year: peace-keeping booths, where you could learn about the efforts of activists working in hot spots around the world to bring peace and reconciliation.
The sheep and goats were not a sermon illustration for Matthew 25, or a call to return to the Old Testament way of doing things, but a chance for the kids to interact with animals and have fun, but also to get young families talking about how poor families might benefit from receiving a goat that can give milk, or a sheep that can give milk, wool and so on.
Welcome to the wild time that is Celebration of Hope—one of my favorite times of year at Willow. It's the time when we focus on what it means to turn our faith into hope for others. This is the 10th year of COH, and Sunday's service included some boisterous worship, a joyful, funny but challenging message from Bob Goff, and a lot more. It's worth watching the whole thing by visiting willowcreek.tv. Sometime we think learning about the plight of the poor means we have to be sad and depressed, but one thing I love about COH is that it actually is a celebration, full of energy, life, and well, hope. We get to be a part of God's work in the world, and that's a joyful thing.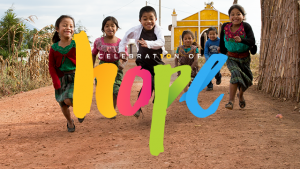 I sometimes hear people ask, "why doesn't the church do more to help the poor?" We often say "the church does this" or "the church doesn't do that" based on our own narrow experience of church. We say "the church" when we mean "my church," or sometimes "a church I went to once." We believe our specific experience to be true generally. That's a false assumption.
I'm thankful that my church does indeed do a lot to help the poor. I'm glad my year-round giving supports not only our local ministry but work of other ministries around the world. I'm glad we don't go in pushing our own ideas or solutions, but instead partner with folks on the ground who know the situation better than we do, who are already doing great work but just need some resources to help them do it better. I'm thankful we try to learn from those partners what it means to act justly, love mercy and walk humbly with God.
Faith is not just about what we think or believe, but how those thoughts and beliefs influence our actions. Faith without deeds is dead faith. I write a lot about spiritual formation. We are being formed for a reason, for a purpose–to show love, to bring change, to bring hope to the world. We are being formed into the image of Christ for the sake of others.
While our "works" or actions don't earn us God's favor, they're an appropriate response to God's love, which comes to us without strings or requirements. It is the very nature of this love, unbidden and unexpected and unearned, that evokes a response of love in us—that makes loving others through our actions a natural response.
While loving others through generous action should be a year-round endeavor, I love that my church focuses our attention on helping the poor for three weeks every spring.
Our church engages with the poor all year round through our Care Center, our Cars Ministry and our global partners, our Compassion and Justice ministry. But for a few weeks each year, right after Easter, we focus on learning about the plight of the poor, raising money and awareness, doing hands-on tasks to help.
This annual campaign, called Celebration of Hope, includes a 5 K run, opportunities to learn about our global partners and support them financially, and seed packing. We rally 18,000 volunteers for two-hour shifts to pack envelopes of seeds that are then sent to partner ministries in Africa, South America and other places around the world.
We also have an opportunity to engage in a food challenge. On Sunday, we were encouraged to take small bowls, created by our partners in Guatemala, from which we could eat a meal that identifies with the poor: a cup or so of rice and beans.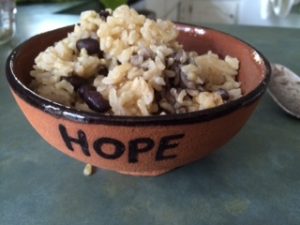 Over the years, our family has engaged in this challenge, and it was life-changing, especially for my children. I've written about it before.
My husband and I are doing a lot of our meals this way: a cup of oatmeal for breakfast, rice and beans for lunch, the same for dinner with a few veggies and occasional small portions of fish or chicken.
I've also committed to simply not go grocery shopping for the next three weeks. We'll live on what we've got in the house, which is plenty. I think as we go along, we may come up with some strange meals. That's okay. I want to remind myself what a privilege it is to have a grocery story about a mile away, that I typically drive to, (I know, right?) to buy more food when there's actually plenty of food in my house. My pantry is never actually empty. What if I let the supplies dwindle, if I make do with what I have and practice contentment while also identifying with the poor who can't just hop in the car and stock up on things because they're on sale or whatever?
This year, as an empty nester, I'm flooded with memories of past Celebration of Hope with my kids: seed packing with a boisterous group of high school students, amazing discussions with my kids (in junior high at the time) about hunger, prayers around the table before digging into meager servings of rice and beans.
We'll join our neighbors and our small group to pack seeds, which is always a high-energy, fun experience. I'll run the 5 K, and we'll give the money we save on groceries, and then some.
I'd like to invite you to join me over the next few weeks. Eat simply. Try even for one day to eat like most of the world's poor—two meals of about one cup each, of rice and beans or a bit of corn in a tortilla.
Think about how you can put your faith into action, bring joy to others, and experience joy along the way.