First, I want to say a huge thank you to those who have already responded to Lawrice's story (see post below) by sending in donations toward his tuition. You are being the hands of Jesus!
            The most creative response so far has been from a friend I'll call K., who not only is sending in a donation, but forwarded my note about Lawrice to several friends with her own note, that read:
Hi there my friends and family –
I've recently been alerted to a cool way to make a difference in the life of one person.  This is truly not a scam, you'll have to read about it for yourself!  Go to my friend's blog https://keriwyattkent.com/soul/ and read her post "Do not withhold good…"
You should also read the 2005 Tribune article that she has linked on the blog to learn more about Lawrice.
And even if you decide not to get involved at this time, in this situation, it's just amazing to see how God has worked in Keri and Wendy's lives as they have listened to His promptings; and how He could/can work in ours if we are in tune to what He wants us to do!
Let me know what you think!
K 
            When K's friend Betty read the note, then my story, then the Tribune story I linked to, she was inspired to send in a donation as well.
            If you're wondering how you can help,
even if you can't afford to make a donation (although I'm not kidding, even a dollar will help), perhaps you could forward the link to the blog with a note like K did. We forward so many crazy things to our friends—jokes, chain letters, rumors and urban myths. Wouldn't it be cool if we could share Lawrice's story with our friends, and a bunch of people listened to God?  Wouldn't it be cool if you could be one thread in the net that God is weaving?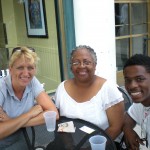 Second, I want to tell you that I had the honor of meeting Lawrice and his grandmother, Delores, yesterday. We met downtown, and had lunch at a sidewalk café on Michigan Avenue. What an amazing young man. And Delores is a woman of deep faith, combined with a quick wit. I immediately felt comfortable with her. I found myself thinking—I would learn so much from this woman. I want to get to know her.
            Lawrice lives with his mother and sister in Milwaukee, but frequently visits his grandmother in Chicago's far South Side. His parents are not together, his father lives in Chicago as well, but I can tell the relationship is somewhat strained.  
            But Lawrice is an impressive young man, with dreams of not only earning his college degree in fine arts, but someday opening a school for kids with similar dreams, where they can learn to sing and dance and act.
            Who knows where those dreams will take him? And wouldn't it be cool to be a part of making those dreams a reality? You can do that by sending in a donation, or by praying for him. Prayer, if you actually do it, will help him just as much.
            Lawrice plans to work while going to school, so that he can help pay his tuition. I also told him he needs to find a church out in L.A. where he can not only find support, but where he can give back to others. His grandmother and I are on strong agreement on that. I told him I want him to let us know how he's doing with his grades.
            So Lawrice is excited, but nervous. Will he find a job out there? Will there be enough to cover his tuition bills? Will he succeed? Will God really provide?
            If you are willing to pray, or to help financially, or forward the news about this young man to friends, could you click on "responses" below and let us know? I'd love it if you would leave an encouraging note for Lawrice as well.