True confession: my ability to create a decent PowerPoint presentation is mediocre at best.
And yet, I just (finally) emailed my PowerPoint to the tech guy for the West Coast Christian Writers Conference, where I am speaking two weeks from today!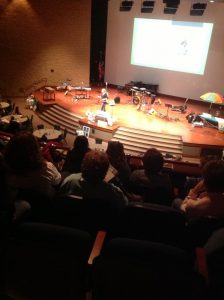 Creating PowerPoint presentations is a small part of my job as a speaker and writer, but not one I enjoy. I don't, at the moment, have the funds to pay someone else to do it. And because I am now an empty nester, I no longer have my teenagers available to help me create PowerPoint. Basically everything I know about it I learned from them. Which is rudimentary at best.
How about you?
What parts of your job do you wish you didn't have to do, or do you feel don't play to your strengths?
Sometimes, the hard parts are bound up in the good parts. When my children were small, I loved cuddling with them. I really was not a fan of diaper changes. But those two things were both part of the job, at least for a season. I tried to outsource the diaper changes to my husband as much as I could, but you can imagine how that went. If your job right now is caring for small children, perhaps you can relate.
Creating a PowerPoint is a "meh" task that is just part of a really fun opportunity—speaking at this conference. I'm excited to go and speak to aspiring writers about how to build a platform, market their books, and move forward on the writing journey. That's important and fun work for me, so I'll do the PowerPoint (and the handouts, which I'm procrastinating on by writing this blog post) so that I can enjoy the fun part.
One of my goals for 2015 is to work smarter. What exactly does that mean?
I'd like to delegate or outsource some of the pieces of my work that I don't do well—that someone else could do faster and better than I, so that I have time to work on what matters most to me. Not because I'm being lazy. It's just that I am realizing that part of why we work is to earn money, but part is to engage in something we feel is meaningful, even enjoyable. Sometimes, the meaning is delivered via a challenge we overcome (like making a PowerPoint), and sometimes, the meaning is discovered as we do something we're good at (like encouraging aspiring writers).
Right now, I'm working with a couple of business clients who are outsourcing a part of their work (blog posts, content development, marketing) to me, so that they can work smarter and focus on the things they do best. It makes sense for them, and it's making me think about what I need to delegate in order to focus on what I do best.
Here's the question I'm pondering: how do you decide which pieces are worth delegating? Sometimes you just have to have the self-discipline to sit down and do the PowerPoint or whatever, because it is a part of the preparation and planning for a workshop. Ideas develop even as you put them into slides. Sometimes you don't have extra resources to pay someone else to do stuff you're not good at. And sometimes, trying something new allows you to learn new skills, even if they are not your best skills.
What do you think it means to work smarter? How do you determine when to choose self-discipline, and when to choose delegation? Leave a comment below.
By the way, if you're interested in the conference, which will be held in Fremont Calif., you can get a discount on registration by using the code Keri10 at www.westcoastchristianwriters.com