Garbage in, garbage out.
This is true in business, in computer programing, in living. It's true of our heart, mind, and soul.
So the question becomes: what are you putting into your mind? What do you tell yourself in the deepest part of your heart? What are you giving to your soul to feed it?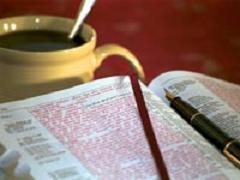 What we fill our heart and mind with flows out in our speech, our actions, our decisions. Our spirits are formed by whatever we expose them to, especially when that exposure is repeated.
As we continue in our DeeplyLoved Lent study, I want to remind you that the goal of our reflections during this season is to live into Christ's love. It's an occasion both somber and joyful, a time to remember Christ's sacrifice. That reflection should not lead to guilt, but to strengthening our desires to walk with Christ and celebrate the intimacy we have with him. Today's presence practice invites us to hide God's word in our heart, to meditate and memorize. Here's the excerpt from today's reading:
Luke 6:45 reminds us:  "For the mouth speaks what the heart is full of."
What is your heart full of? Is it full of bitterness and anger? Is it soaked with God's word?
Read Psalm 27 slowly. Choose one or two verses that are particularly meaningful to you and memorize them. As you go through your day, invite Jesus to be with you. Try to stay attentive to his presence. Think about what it means to "dwell in the house of the Lord" each day (v. 4). When you are at someone's house, you are spending time with him or her, listening and conversing. How can you dwell in God's house today?
Write a couple of your favorite verses on index cards and carry them with you. While you are waiting for an appointment, on your lunch break, or where ever, read over the verses. In the car, turn off the radio and try to recite a verse. Fill the spare moments of your day with God's truth.
In the comments section below, share a verse you've memorized, or a way that filling your heart with God's truth has impacted the way you live and love.