One of the hardest parts of being a "Christian author" is people assuming that your theology or politics aligns with theirs, just because you happen to believe in Jesus, and they do too.
I'm sure you, even if you're not an author, have experienced this similar truth: one of the hardest things about being a Christian is that people assume you agree with them about everything, just because you happen to have a mutual friend in Jesus. And they tend to judge you (even your salvation) if you don't agree with them. Which can make you feel alone, in the body of Christ. Which doesn't even make sense, right?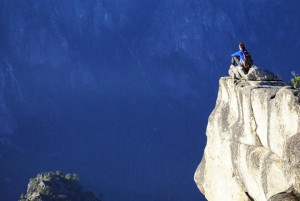 Today, I posted a quote from business guru (and Christian) John Maxwell on my Facebook page. It says: "Life is a grindstone. Whether it grinds you down or polishes you up depends upon what you are made of."
Which is, among other things, true.
I didn't think it was a controversial statement. It was essentially a statement about character. About choosing to have an attitude that allows your trials to form your character. Kind of a nicer way of saying "what doesn't kill you makes you stronger."
One of my more conservative (well, more conservative than me) friends, whom I deeply respect but don't necessarily think the same as, posted a comment. "Where's Jesus in that?" he asked. It felt a little bit scold-ish, but it's easy to misinterpret a comment on Facebook.
I grew up in evangelicalism, so I am well-schooled in proof-texting. 🙂 So I was able to throw some fragments of Scripture at him off the top of my head, but also noted that perhaps he's over-thinking it. Maybe it's just a statement that says life is tough, don't let it get you down.
I mean, do we have to say "Jesus" for Jesus to be "in" something? Does our theology have to be overt for it to be true? Isn't Jesus, being divine, omniscient and therefore "in" everything? And doesn't a statement like this bring to mind verses like Romans 5:3-5:  "Not only so, but we also glory in our sufferings, because we know that suffering produces perseverance; perseverance, character; and character, hope. And hope does not put us to shame, because God's love has been poured out into our hearts through the Holy Spirit, who has been given to us."
Or the similar theology expressed by James in this verse: "Consider it pure joy, my brothers and sisters, whenever you face trials of many kinds, because you know that the testing of your faith produces perseverance.  Let perseverance finish its work so that you may be mature and complete, not lacking anything."
Do you see Jesus in the unexpected places, where there is truth or beauty that speaks of him without saying his name?
Leave a comment and tell me about it.