One of the gifts God plunked in my lap about one year ago was a chance to be a part of the team at C. Grant & Co. Marketing. We do all sorts of creative marketing, using social media, creating content, and so on.
One of our newest projects is a website where we have weekly contests to give away free books. If you'd like to win free books, I'd encourage you to visit the WinBooksWeekly site.  Each week, we give away five copies of a non-fiction book. At a similar site, http://freefictionfriday.weebly.com/, we give away fiction books.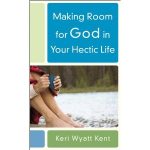 This week, we're giving away my book, Making Room for God in Your Hectic Life.  It offers practical advice on slowing down, simplifying and resting. The book includes interviews with real women who are taking steps to slow down the pace of their lives so that they can really listen to God, and to the people around them. One nugget from the book: "You cannot love in a hurry."
While that's true, you do have to hurry to win a copy of this book–the contest ends Friday. Visit http://winbooksweekly.weebly.com/ or follow @wheregodis on Twitter to find out how.