It's free book Friday!
Since this is the very first free book Friday, we're celebrating with two contests, in which you can win free books.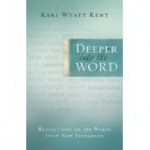 My newest book, Deeper into the Word, looks at 100 words from the New Testament, from "Afraid" to "Yoke." In an easy-to-read style, it examines what each word meant then (when the NT was written) and what it means for us today. This book is a perfect blend between a Bible reference book and a thoughtful devotional.
So the first contest is simple: Post a comment below answering one or more of these questions: What is your favorite New Testament word? Or a New Testament word you've often wondered about? Or a verse that has puzzled you? Keri will pick three words to write a blog post about. If she picks your word to write about, you get a free copy of Deeper into the Word!
The second contest is also simple (remember, I'm all about simplicity): click here to go to the Google books page, where you can read more than 30 pages of Deeper into the Word. Based on reading that much, post a review on your blog or your Facebook page,  and also on amazon.com. Leave a comment below with the link to your review. Again, three winners will be selected to receive a free copy of Deeper into the Word (so that you can read the rest of the book!).
You have until noon Monday to enter!
Good luck. We'll announce winners on Monday evening. any questions? leave a comment and I will gladly respond!