Sorry for the delay in posting the results of the book give-away! Ironically enough, I was so busy working on a social media training program for authors this week that I didn't have time to tend to my own blog!
Kirsten F. and Susan S., you are our winners this week. Look for an email from me. And we'll do another book give-away soon.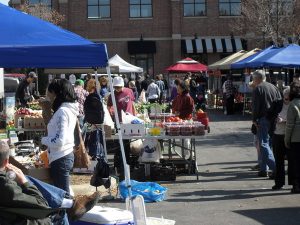 It's Saturday morning, and I'm just back from visiting the Palatine Farmers Market. I love this market. While some of the food is pricey, it's worth it. I always find unique, local, organic: artisan cheeses, organic greens, red turnips. After spending most of the week in front of my computer, the farmers market fills me–and not just with food.
This cluster of booths is about connections–a chance to quietly rage against the isolation of suburban living.  The suburb I live in doesn't really have a downtown, just various clusters of strip malls, and our area small towns fit together like jigsaw puzzle pieces, blurring together. But Palatine has more of a downtown, and on Saturday morning, the farmer's market has a small town vibe that I love. After a week of working with words, my soul is soothed by people watching, wandering the small market and just looking at the beautiful produce, breads, cheeses and other treats.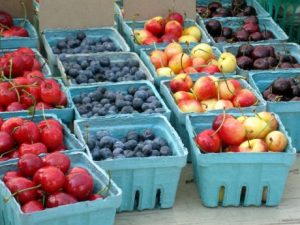 My dog Jack, an aging mutt, accompanies me, eagerly visiting with all the other dogs and children. People bring their dogs, and small children, and move at a slower pace, taking time to greet each other, pet the dogs, talk to the children. My daughter Melanie has a summer job there, working at the doughnut truck: a mobile doughnut-making operation that does a great business, because the smell of those mini doughnuts frying is irresistible. and when you're buying organic argula or fresh berries, you figure you're being so healthy you can afford to indulge. Every week, she sees children that she babysits for at the market, or families whose children she's taught in Sunday School.
I start my wander through the market  at the booth set up by the University of Illinois Extension service, where master gardeners are available to answer questions. I bring samples of plants from my garden, trying to identify a couple of perennials. I find out that these beautiful white flowers that are taking over my garden are called Penstemon digitalis, and the herb going crazy in one corner of the garden is oregano!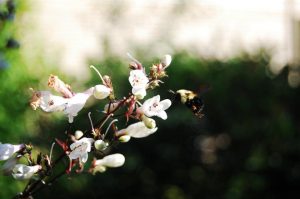 My dog is more interested in the booth next to that, where they sell dog biscuits and treats. Across the way, a guitarist plays and sings as people walk by.
I pick up pasture-raised eggs, an amazing goats milk Gouda cheese, beets, swiss chard and tomatoes. I run into people I know from church and town, Jack the dog meets lots of new friends. I find food for my table, and for my soul.
question to ponder: what feeds your soul? Where do you go to be inspired by beauty?