The word Advent means "coming." In these busy weeks preceding Christmas, I want to focus not just on buying gifts, but on receiving the gift that has come my way: God's grace, made visible in the form of a baby in a feed trough. This is one way to care for your soul at Christmastime. I wrote recently about some ways to make Advent more meaningful. One suggestion was to read and reflect.
So over the next few weeks, I want to step through the Christmas story and select a few thoughts for us to ponder during Advent. According to the Bible, before Jesus came, an angel made the rounds, with important messages, not just to the people in the story, but to us as well. Every time an angel shows up, their opening line is "Do not be afraid." Which means, of course, that our stereotypes of angels as fluffy winged weaklings in white bathrobes have to be incorrect. In the bible, angels are typically warriors, who have to say "don't be afraid" because fear is the natural reaction to seeing one.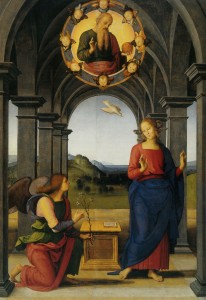 So Mary, a frightened teenager surprised by an angel, is told first and foremost, "Don't be afraid."
And we, too, are told: Don't be afraid. Stop. Breathe. Notice: beneath the surface, is there fear in your heart? This time of year, consider: is all your hurrying and scurrying motivated, even in small part, by fear? Fear of what others will think, perhaps.  Will you get them the right gift? Will you disappoint someone? What will people think of your gifts/home/meal/self?
Or maybe you label it "perfectionism" which is really just another form of fear and insecurity. This time of year, our inner Martha Stewart sallies forth, inspiring even people like me, who are certifiably craft-impaired, to grab a glue gun and attempt to make something, anything. Eleven months of the year, I ignore decorating projects, don't darken the door of Hobby Lobby, and feel perfectly okay about it. But in December, all that changes. The expectations seem to change.
"Do not be afraid," the text implores. And realize that fear might be behind those crushing "expectations," even the unspoken ones.
What fears drive you, especially during this season? What can you do to embrace the words to Mary, which stated in the positive are simply: Be brave.
Please leave a comment: what fears hold you back from experiencing the joy of Advent? What will you do to let go of those fears?
P.S. I'm delighted that a group of bloggers are participating in a "blog hop" where they will focus their Advent reflections on my book, Deeply Loved. This blog hop is organized by Angie Mabry-Nauta, blogger at Woman in Progress. Click on the link to her blog for details. (If you're a blogger it's not to late to participate). The hop begins tomorrow, Dec. 2.