One of the radio stations I listen to in the car has started its annual tradition of playing only Christmas music during the holidays. But instead of starting on Dec. 1, they've already started! I love Christmas music, but I thought it was a little early for it.
But Christmas is coming. Every year, I tell myself I'm going to keep things simple, and fun. Not always an easy goal to achieve. But I found a great little book that has some wonderful suggestions, in a very cute format. A Scrapbook of Christmas Firsts is a great book for yourself or as a gift. It is a compilation by six authors, and I know several of them personally. They're real women with families, jobs and stress, but they've put together a great little book that I really enjoyed reading. Here's the review I posted on amazon for the book.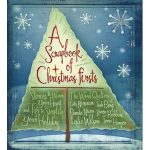 What a sweet little book! Fun, accessible graphics present tips for simplifying your holidays, vintage poetry, trivia, verses, recipes and "Chicken Soup" style inspiring stories, assembled in a scrapbook style. This charming book creates a beautiful harmony from the unique voices of its six authors. It would make a great "open before Christmas" gift. It's homespun look and content are a reminder that the holidays are a time to celebrate and enjoy, not to stress over!