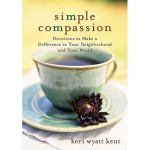 My new book Simple Compassion is arriving in stores now! To celebrate, I'm giving away ten review copies here on the Deep Breathing for the Soul blog.
Simple Compassion is a weekly devotional that will help you take practical steps toward living a life of compassion, toward understanding social justice, toward living as Jesus would.
But don't take my word for it. You can read the latest review of the book on the Book Bargains & Previews website.
To win a free book, all you have to do is agree to post a review on amazon.com (and on your blog or Facebook page, if you have that). Leave a comment by midnight this Monday, (Oct. 5) and we'll draw 10 names. If you're reading this on Facebook, click on the link to the actual blog, register and leave a comment.