There's something about a bookstore. The smell of ink, paper, and coffee. The landscape of books: piled on tables, lining shelves. The quiet hum of people talking, or just turning pages.
When you buy a book, do you prefer browsing in what's called a "brick and mortar" store–a physical bookstore housed in a building? Or do you like book shopping on the web?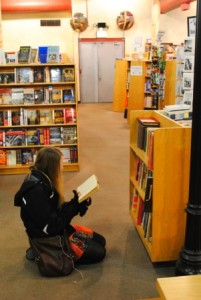 Just finished a great meeting with the marketing manager for my forthcoming book, Deeply Loved, and was delighted to learn that this book will be on shelves at Family Christian Stores, Barnes & Noble stores (and their website), and also on all online sellers, including iTunes.
I will buy books anywhere I can find them, and I love being able to buy a book instantly on my e-reader. But there's something about losing yourself in a bookstore. How about you? Where do you buy books?