During the next three months, Deep Breathing for the Soul is going to be giving away books every week, both here and through our Connecting e-newsletter. So invite your friends to visit the blog, and to subscribe to Connecting.
This week, we had four winners. Linn Woodard and Karin Haubold got copies of Rob Bell's newest book, Jesus Wants to Save Christians. (Amber Olsen also qualified, and I'm waiting to hear from you, Amber, so I can send you the book!)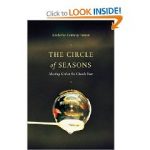 Connecting subscribers got another chance to win. Linda Wager and Linda Evans each got a copy of The Circle of the Seasons by Kimberlee Conway Ireton. Kimberlee is a writer to keep your eye on, she has a lovely voice and a lot of depth.
Once you win, you have to wait three months before you can win again–just to share the fun as much as possible. This is a great way to get some of your Christmas shopping done, for free.
And get ready, because in January, a bunch of other blogs are going to be participating in the REST: LiVING IN SABBATH SIMPLICITY blog tour, and each will be giving away a copy of Rest.
Happy reading!